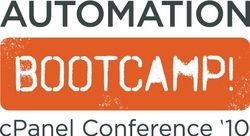 This event will provide customers with the opportunity to engage some of the best technical minds from cPanel and the hosting community
Houston, TX (PRWEB) July 18, 2010
CentOS, Microsoft, SpamExperts, Fuscan, and SoftCom, Inc. are the newest exhibitors at cPanel Conference 2010— Automation Bootcamp.
The addition of these exhibitors will provide cPanel Conference 2010 attendees with a variety of new opportunities to learn.
cPanel's Vice President of Operations, Aaron Phillips, said he is looking forward to the upcoming conference because it offers an opportunity for the public to mingle with much of the cPanel staff and enjoy the exciting events that cPanel hosts.
"This event will provide customers with the opportunity to engage some of the best technical minds from cPanel and the hosting community," Phillips said.
CentOS is a free, enterprise-class Linux distribution derived from sources freely provided to the public. CentOS conforms fully with the upstream vendors redistribution policy and aims to be 100% binary compatible. For more information about CentOS, please visit http://www.centos.org/.
Founded in 1975, Microsoft is the worldwide leader in software, services and solutions that help people and businesses realize their full potential. For more information about Microsoft, please visit http://www.microsoft.com.
SpamExerts is a market leader for email security solutions. SpamExperts also offers spam filtering and email archiving software at the lowest cost on the market. For more information about Spam Experts, please visit http://www.spamexperts.com.
Fuscan Linux Cloud is a high-availability, load-balanced system designed to work with cPanel. Fuscan Linux Cloud helps web hosts move to the cloud risk-free while continuing to offer high quality, scalable web hosting services based on cPanel/WHM. For more information, please visit http://www.fuscan.com.
SoftCom is an industry leading provider of web hosting and business communication services to more than 2.5 million users, with support of 26 languages in 140 countries worldwide. myhosting.com and mail2web.com brands are owned and managed by SoftCom. For more information, please visit http://www.SoftCom.com.
In addition to developing a robust group of exhibitors and sponsors, cPanel is also adding many new features to this year's conference. The "Lightning Talks" portion of the conference will provide a platform for attendees to discuss any non-advertising-related topic they choose for five minutes (attendees will receive 30 seconds for promotional announcements). Attendees who are interested in participating in the "Lightening Talks" may sign up via http://www.cpanel.net/conference/10/lightning-talks.html.
"They'll provide a unique experience to our guests attending the conference," Phillips said.
More about cPanel
Since 1997, cPanel has been a leading innovator and developer of control panel software for the web hosting industry. Headquartered in Houston, Texas, cPanel builds software that allows web host professional to transform standalone servers into fully automated point-and-click web hosting platforms. cPanel licensed software allows owners of servers and websites, along with resellers and developers, to optimize their technical resources and replace tedious shell-oriented tasks with dynamic, intuitive web-based interfaces.
Media Contacts
Vernon Blanson
Marketing Coordinator
Diane Sager
Marketing Manager
Eric Gregory
Account Manager
email: conference(at)cpanel(dot)net
# # #