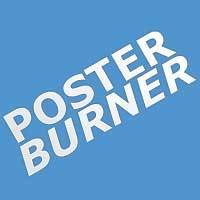 Chesapeake, VA (PRWEB) July 20, 2010
When Rick and Matt Stephenson founded the poster printing website PosterBurner.com they bought a single bottle of champagne. They planned to open it the first time they sold 100 posters in a single day. After two years of hard work, the Stephenson brothers have finally popped the cork on that bottle of champagne. "We thought it would be much sooner," said Matt Stephenson. "We didn't realize how much there was to learn about building a successful company." They seem to be figuring it out.
Poster sales have grown by 25 percent each month in 2010 and the company has added offerings like frames and foam core poster backing to the website. They also recently launched a canvas printing website, RoyalCanvas.com. "RoyalCanvas is exceeding our expectations in every way. I don't think it will be long before it's bigger than PosterBurner," says Matt Stephenson.
The brothers agree that the most important factor in the success of their business has been the quality of the product. "I think a lot of people that come to a poster printing site for the first time are expecting to get a flimsy poster, especially since we charge less than 25 dollars. When the poster shows up and it's a great print on really high quality gloss paper, they spread the word."
The word of mouth from customers has been the driver of growth at PosterBurner. The brothers are taking a similar approach of putting the product first with RoyalCanvas. "If you cut corners, you might be able to save some money today, but you're doing damage that's not going to be seen until six months down the road. When our customers get our posters and our canvas prints, we need them to be wowed. That way they come back and they tell their friends."
# # #