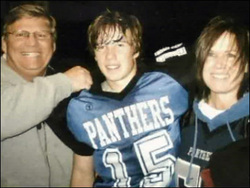 "We have an incredible number of paths to a safer game without fundamentally changing football." Chris Nowinski; Sports Legacy Institute
Seattle, WA (PRWEB) July 19, 2010
According to statistics by the National Center for Catastrophic Sports Injury there were over 300,000 football related concussions last year. Over 40% of those players injured returned to play too quickly and another study shows that up to 60% of all head injuries go unreported as players try and "shake it off" and stay in the game.
There were 3.8 Million sports and recreation related concussions just last year according to the Center for Disease control at an annual cost of $60 Billion Dollars in Medical costs.
Now at epidemic proportions concussions and Traumatic Brain Injuries have been widely reported in recent studies and news stories. The short term risks have long been recognized as many athletes suffer depression, memory loss, mood swings, pain and nausea.
Longer term effects now include dementia and death from CTE (Chronic Traumatic Encephalopathy) as athletes as young as 18 have been confirmed to have been suffering from the deadly killer. CTE is the same brain disease that afflicted Cincinnati Bengals wide receiver Chris Henry last month at age 26.
Now more than ever there is a need for extreme caution in youth sports where kids brains are less developed and the possibility of grave danger much greater. The long and short term risks are becoming more and more clear with better research and all arrows point to more issues then previously thought.
Based upon these facts and the recent injuries and deaths of athletes in the Pacific Northwest several impacted families have had enough. The group has formed a unique Non-Profit organization known as BrainChampions.org and will be hosting an inaugural Dinner and Concussion Summit in Tukwila, Washington on July 30th, 2010. The dinner will be supported by a group that includes 8 Families so far including three families who have worked to pass laws aimed at protecting youth athletes from sports related concussions and brain trauma.
They include Zachary Lystedt and his family of Washington State, Max Conradt of Oregon and his family, and Kort Breckenridge and his family of Idaho. These three boys are the namesakes for the first three laws in the United States which have now touched off a cultural revolution that is changing the way Organizations from Pop Warner to NFL Football treat head injuires.
Joining those families is the Swank family of Spokane, Washington who's son Drew died last year after receiving a critical head injury in a Friday Night game. Also coming to the summit is Elizabeth Apostol and her 2 year old daughter with her family of Missoula, Montana. Liz was engaged to Dylan Steigers of Missoula who died tragically this Spring after receiving a tragic head injury in a Spring scrimmage at Eastern Oregon University.
Rounding out the group is Matthew Newman, a critically injured High School QB, Josh Morros a Motorcross racer from Nevada, and the Knudsen's of Portland, Oregon. All of these families have had concussion and brain trauma while competing in sports.
Speaking at the dinner, which will be held at the Comfort Suites in Tukwilla, Washington from 6:30 to 8:30, is Doctor Mark Lovell of the University of Pittsburgh. Doctor Lovell is the Co-founder of ImPACT Concussion testing which is the Gold Standard in Neuro-cognitive baseline testing which the group feels is essential to a proper concussion prevention program. ImPACT has been adopted by the NFL, NHL, and hundreds of Colleges and Universities around the Nation.
Roger Goodell, the NFL Commissioner, recently sent a letter to the Governors of 44 States urging them to pass legislation like the Lystedt Law of Washington State. "The NFL and its clubs urge you to support legislation that would better protect your state's young athletes by mandating a more formal and aggressive approach to treatment of concussions," Goodell wrote to the Governors.
"The dinner is the first event for our organization and this is the first group of severely injured athletes and families to rise up on this issue. Together we will help each other and try and prevent further tragedy. We invite everyone to join us as we work with the best people in the world to get better tools and standards in place at all levels," said Dirk Knudsen; the group's founder.
The group will promote what they are calling the "Team 7:15" Initiative which outlines in a declaration crucial steps schools and youth programs must follow to make the needed changes occur. That document will be signed by all in attendance and forwarded to all schools and administrators in the Region.
"There is a lot more we need to be doing. Practice regimens need to change to minimize non-game hitting, we have to have trainers at all fields and ambulances at all games. The latest Education has to be required of all coaches, parents, and players too. The information is there but just making better helmets is of little help if these things don't change as well," Knudsen who is also a coach said. "We have a systemic breakdown in youth sports on this issue but together with all the parties help we can fix it and minimize the number of catastrophic injuries and deaths. We can and will make that happen."
The group is asking that any and all injured athletes and families who have suffered through concussions and traumatic brain injuries and other interested parties join them by calling 503-799-8383 or visiting the BrainChampions website.
Invites were sent to most local coaches, doctors, and the WIAA which is the body charged with overseeing Washington State High School Athletics.
###