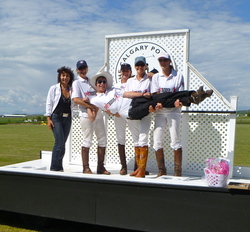 within moments of getting out on the field I was mesmerized by the fun & excitement Polo can bring
(PRWEB) July 20, 2010
With the summer season full underway in Calgary, Dustin Miller, founder of Swiftbidder.com, finds an unique way to support & participate in the local community. A recent high-school graduate, Dustin has a lot ahead of him. "I've got a lot on my plate these days. Operating one of Canada's fastest growing e-commerce websites, dealing with large daily sales volumes, organizing the companies first sports car auction, and sponsoring Calgary Polo all takes time, thought & organization. I'm definitely not your average teenager making mini-doughnuts at the Stampede grounds from 9-5."
Swiftbidder has since organized to sponsor a Calgary Women's Polo team, showcasing the companies' support in local sports & community events. The Western Canadian Ladies Heart Cup will be played at the Calgary Polo Club July 15-18, 2010. The tournament is hosting 9 premier ladies polo teams from across Canada and the US. The prestigious Heart Cup trophy was donated to the Calgary Polo Club by the Heart & Stroke Foundation of Alberta, and is handed out annually to an international caliber polo team.
"With my recent success, I've been able to meet some amazing and influential people in & around the Calgary Polo community, they've definitely been welcoming, supportive & interested in a young budding entrepreneur such as myself" Dustin says. The ladies tournament this week is expected to bring out more than few spectators, as one of the top-rated female players in the world, Sunny Hale, is visiting from Florida to anchor the Identity Marketing team in the Ladies Heart Cup tournament.
Malia McKoy, Megan Kozminski, Kate Weber and Julie Roenisch are the players on the Swiftbidder ladies polo team that hail from Manitoba, Oregon, and California. They are scheduled to take on Hale on Friday, in an exciting match to kick off the tournament. The Heart Cup finals will be played on Sunday – as teams vie for their name on the trophy, as well as prizes, MVP and best playing pony awards.
The Calgary Polo Club is one of the premier polo destinations in North America. The club boasts 8 fields, picturesque views of the Alberta foothills and Rockies, and trophies that date back to the early 1890s. "It's always good to take some time off and get your mind off the business, it definitely takes a toll on you mentally & physically, and within moments of getting out on the field I was mesmerized by the fun & excitement Polo can bring" Dustin states.
With such an opportunistic attitude & dedicated team of people, don't expect anything to be out of reach for this youthful and promising e-commerce company. This summer Swiftbidder plans to auction off its first brand new sports car for pennies on dollar, a huge undertaking for Dustin, but one he is willing to take.
For more information on Swiftbidder.com, contact Dustin Miller at 1-888-406-6569
For more information on the Calgary Polo Club, contact Megan Kozminski at (403) 938-0182.
# # #