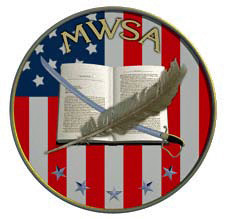 "Our awards recognize the literary and historic works of our members. Most are active duty personnel and veterans who write or create in a variety of genres. Others are historians who focus on military themes." – Bill McDonald, Elk Grove, CA, MWSA founder
Pittsburgh, PA (PRWEB) July 23, 2010
The Military Writers Society of America (MWSA) announced today the nominees for its prestigious Gold and Silver Awards. Both the nominees and final winners will be lauded at the MWSA Conference banquet and awards ceremony, Saturday, Oct. 2, at Pittsburgh's Wyndham University Place. The hotel is headquarters for this year's annual conference from Thursday, September 30, through Sunday, October 3.
The 70 award nominees are candidates for Gold or Silver Awards and first and second honorable mentions in 25 different categories. Reviewers scored submissions on certain criteria, and the nominees are the top scoring authors and artists in each category system. A panel of judges will evaluate and select the winners and MWSA Vice President Mike Mullins will announce the results at 9 am (EST), Saturday, July 31, on Veterans Radio Network. (http://www.veteransradio.net) Veterans Radio, hosted by Dale Throneberry, is dedicated to all of the men and women who have served, or who are now serving, in the USA armed forces.
"These award nominees are already winners," said Joyce Faulkner, MWSA president. "Some of their benefits will be appearances on various blogs and radio talk shows, features on MWSA's website and in our monthly Dispatches magazine, and interviews on radio and public-acess TV during our annual conference in Pittsburgh."
Among 2009 MWSA Gold Award winners: fiction, author John R. Takacs, "The Take-US," a thriller about a Vietnam veteran and his invention – a car that runs without oil/gasoline and threatens the world's power structure; nonfiction, author Tom Ruck, "Sacred Ground: A Tribute to America's Veterans," photographs of military cemeteries enhanced with quotes, essays and speeches of famous Americans; and children's books, authors Sara Jensen-Fritz, Paula Jones-Johnson, Thea L. Zitzow, "You and Your Military Hero," which helps children learn coping skills during loved ones' deployments.
All 2010 award winners and nominees are invited to MWSA's fall conference that's highlighted with a flag ceremony at Pittsburgh's South Park Flag Retirement Plaza, special interest luncheons, workshops and a play at the Kelly-Strayhorn theater. The play will feature the works of MWSA 2009 Medalists John Takacs, Mike Angley, Erin Rainwater and Kathleen Rodgers. Joseph-Beth Booksellers, official MWSA Pittsburgh Conference bookseller, will host a signing for authors Bruce Gamble, Duke Barrett, Dan Farinacci, Richard Lowry, Gary Moore, William Peterson, Tom Ruck and Dwight Zimmerman.
Military Writers Society of America is comprised of more than 800 authors, poets and artists. They are drawn together by love for the men and women who defend this nation, and a deeply personal understanding of their sacrifices and dedication. Most of our members are active duty military, retirees or military veterans. Others are life-long civilians who've chosen to honor our military through their writings or art. But all have stories to tell, all are a part of the fabric of Freedom.
Contact: Joyce Faulkner, MWSA president, Bridgeville, PA (412) 496-5034.
*See attachment for MWSA award nominees, cities/states, countries
# # #