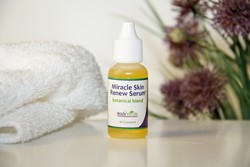 Boise, Idaho (PRWEB) July 20, 2010
Painful skin conditions take time, TLC and sometimes, a boost from nature to heal.
Seeking a gentle way to treat the every-day scrapes and scratches of her four children, BodyVerde.com founder Sue Donnellan went to the lab to develop a mix of botanicals to speed skin's natural ability to heal itself. Her research led her to time-tested plant and sea extracts, including a tiny berry native to Asia called sea buckthorn.
In all, there are 16 skin-healing extracts in BodyVerde's Miracle Skin Renew Serum.
"It literally began working overnight to heal wounds and prevent scars," Donnellan said. "I knew we had hit upon a safe, effective remedy, but the proof truly was in the results that my family, friends and customers experienced."
Donnellan found many other types of injuries on which to try her new formula, such as sunburns, cuts and insect bites. There were her own complaints as a busy working mom: cracked hands, chapped lips and wrinkles. She even tried it on the family dog's sores. Miracle Skin Renew Serum worked time and time again.
She continues to hear of new uses. "I have it in every bathroom (and diaper bag, too). I use it as my under-eye night treatment and it has reduced my redness significantly in just a few weeks. I use it on my cuticles from the dry winter air. And, most importantly, I use it on my kids. Since it's all natural, I can use it when my son's fingernails cut his face and not worry about him digesting chemicals," wrote Tracey Tanner in Boston.
Another customer wrote to describe how the serum healed a zip line injury on her son's neck in five days. A man experiencing hair loss wrote that Miracle Skin helped soothe his itchy scalp. One talked of nearly eliminating the red, scaly eczema between her fingers within the first few days. Some even included before-and-after photos.
The serum's main ingredient is sea buckthorn, which has long been used for skin therapy. Rich in healing vitamins, carotenoids and fatty acids, sea buckthorn has also been used to treat chemical and radiation burns – in fact, Russian cosmonauts used it to protect them from cosmic radiation.
Unlike many other topical treatments available, Miracle Skin Renew Serum contains no preservatives, parabens, propylene glycol, mineral oil or color. As BodyVerde pointed out in a recent e-report, the typical U.S. consumer uses about 10 health and beauty products every day that contain an average of 126 different chemicals.
BodyVerde's Miracle Skin Renew Serum sells for $10.99 at http://www.bodyverde.com/bv/products/miracle-skin-renew-serum.
About BodyVerde:
Nature's perfection is the inspiration for BodyVerde's effective and affordable skin care products. We apply our family values to our product development, using only safe and gentle botanical ingredients to promote self-healing from within. Go to http://www.bodyverde.com to sign up for Body Buzz, our e-newsletter, and receive as a bonus a new e-report, The Secret to Beautiful Skin: 10 Reasons to Choose Natural Skin Care Products for You and Your Family.
Contact:
Becky Nelson, public relations
BodyVerde
(608) 513-9203
http://www.bodyverde.com
# # #