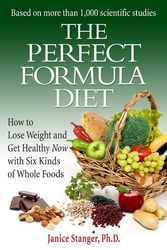 "Food theories that claim fruit should be avoided by serious dieters may prevent many from enjoying nature's bounty and are actually counterproductive,"
San Diego, CA (PRWEB) July 20, 2010
A 2010 study in the journal Nutrition investigated fruit and weight loss in 77 overweight and obese dieters. The researchers confirmed that participants who ate more fruit were significantly thinner than the others and lost more weight. A 2009 analysis of 16 published studies on the relationship between eating fruit and body weight came to the same conclusion. Fruit spurs weight loss and helps prevent weight gain.
In summer, popular fruits such as peaches, nectarines, cherries, grapes, melons, strawberries, blueberries, raspberries, plums, and many others fill stores and farmers markets. "Food theories that claim fruit should be avoided by serious dieters may prevent many from enjoying nature's bounty and are actually counterproductive," observes Dr. Janice Stanger, author of The Perfect Formula Diet. "Look at the whole foods, and not just bits and pieces."
Here are eight reasons why fruit will help with losing weight.
1. Nutrients. The human body has finely tuned sensors for both calories and nutrition. When enough of both have been consumed, appetite naturally turns off. Fruit is dense with nutrients, including vitamins, minerals, and phytochemicals (beneficial plant substances that are antioxidants and protect health).
2. A reasonable amount of calories. Vegetables also are rich nutrient sources, but have fewer calories per bite than fruit does. So fruit suppresses appetite better than vegetables do.
3. Fiber. Fruit is packed with fiber, which is not digestible by humans. Fiber does help fill the stomach though, adding bulk without calories and making dieters feel satisfied.
4. Clean metabolism. Cells burn fruit quickly and efficiently. This helps normalize and rev up metabolism. This contrasts with protein, which generates toxic by-products when metabolized, or fats, which are often just stored without being burned for fuel.
5. Energy level. Since fruits are packed with nutrients and are so readily used by the body, dieters feel more energetic and naturally are more active. This extra movement burns calories.
6. Portable. Fruit can easily be tucked into a purse, briefcase, or backpack. Thus this nutritious snack is always available and can cut hunger between meals. A couple of pieces of fruit can serve as a convenient mini-meal or "not-meal."
7. Raw food. Fruit is usually eaten raw, with no nutrition lost to cooking. Also, raw foods tend to digest more slowly, making dieters feel full longer.
8. Taste satisfaction. Bakers and candy-makers try to copy fruit tastes, which are naturally appealing to people. However, real fruit satisfies the craving for great taste naturally, so that dieters crave fewer empty calories.
For maximum benefit and weight loss, follow these tips in selecting and eating fruit.
1. Eat a variety of fruits for a superstar team. Each variety has its own nutritional profile. By choosing many kinds, dieters will get the most nutrition and appetite satisfaction.
2. Frozen fruits have just about all the nutrients in fresh fruits, and may be a convenient alternative.
3. For fresh fruit, concentrate on whatever is in season throughout the year. The seasonal fruit is more likely to be local and to have retained its just-picked flavor and nutrients.
4. Farmers markets and natural food stores may have tastier fruit than many supermarkets do.
5. Fruit is more satiating when eaten slowly.
6. There is no need to further sweeten already naturally tasty fruit.
7. Juice does not have the same nutrients and fiber as the whole fruit. For diet success, it's best to avoid juice and eat the whole food instead.
Fruit is an integral part of a whole foods diet. Other whole foods categories that aid weight loss are vegetables, potatoes, beans, and whole grains. Flavorful herbs and spices are also packed with beneficial phytochemicals, satisfying taste and nutrient needs at the same time. Eating a varied, whole foods, plant-based diet is a key to weight loss.
# # #