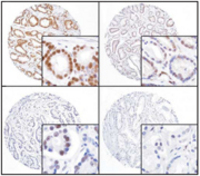 The ability to detect changes in histone methylation and use them to assess tumor progression or predict response to therapy is a powerful new approach that has significant clinical implications.
Flagstaff, AZ (PRWEB) July 19, 2010
Flagship Biosciences LLC, a provider of digital pathology services, announced today an exclusive partnership with PrognosDx Health to provide pharmaceutical companies and cancer centers with access to tissue-based, global patterns of histone modification patient profiling for use in early stage drug discovery and various phases of clinical trials. PrognosDx Health is an early-stage epigenetics company with unique global patterns of histone modification patient profiling technology.
"Epigenetic changes in gene regulation that are not specifically due to direct alterations in DNA have been demonstrated to drive tumor progression and response to therapy," commented Amato Giaccia, Ph.D., Professor of Radiation Oncology and Associate Director for Education at the Comprehensive Cancer Center at Stanford University. Dr. Giaccia added: "The ability to detect changes in histone methylation and use them to assess tumor progression or predict response to therapy is a powerful new approach that has significant clinical implications, which was recently demonstrated in a study published in the Journal of Clinical Oncology that showed high levels of H3K4me2 and/or H3K18ac were predictive for increased survival. These exciting studies represent the future of molecular pathology."
"Pharmaceutical oncology clinical programs and cancer centers are both struggling with the ability to effectively profile their patient populations during clinical trials," said John Bloom, a well-known leader in companion diagnostics development and a board member of Flagship Biosciences. Dr. Bloom added: "Epigenetics is an emerging valuable addition of information that may help to drive better prognostic decisions from study enrollment through late-stage trials. We are excited to see PrognosDx's technology platform be made readily available to these pharmaceutical and cancer center groups through the services and partnership with Flagship Biosciences."
Flagship and PrognosDx have agreed to a profit sharing business arrangement, which primarily is based on providing laboratory testing services to companies with early stage drug discovery programs as well as those companies needing to test their preclinical or clinical phase tissue samples. These services will be launched in Q3, 2010 and will initially focus on testing of specimens related to therapeutic oncology programs within pharma where global patterns of histone modifications patient profiling may identify sub-population of the patients who will be the likely responders to the drugs in development. These testing services will also apply to animal studies, target identification, target validation, and efficacy studies especially for HDACi class of compounds, various pro-drugs, certain chemotherapeutics, compounds inhibiting the nucleotide synthesis process as well as those compounds impacting certain proprietary metabolic pathways.
Kamran Tahamtanzadeh, Founder and CEO of PrognosDx, stated, "Flagship Biosciences brings a unique combination of pathology expertise and image analysis talent, and the ability to run preclinical and clinical trial studies in a regulated environment. This partnership will meet the demand from our pharmaceutical clients for easily-available, high-quality clinical trials patient profiling services. We see great benefit in partnering with Flagship's leaders, who are well-known experts in digital pathology services wherein a foundation of test accuracy and reproducibility is required. Furthermore, we believe that the highest-quality IHC and digital analysis is critical to quantitative histopathologic evaluation and we are confident that Flagship has the expertise to deliver this important test in support of cancer patients."
About Epigenetics
Epigenetics refers to the regulation of genes with mechanisms other than changes to the underlying DNA sequence and such processes are widely believed to play a central role in the development and progression of almost all cancers. Such epigenetic processes are controlled by DNA methylation and histone modifications.
About Flagship Biosciences
Flagship Biosciences is a pathologist-owned company whose mission is to improve tissue assessment in pharmaceutical and medical device development. Flagship's services include quantitative pathology assessment on-demand, low-cost digital pathology slide scanning, secure hosting, pathologist-supervised IHC and histology placement, and custom image analysis and companion diagnostics development. All of their services are reviewed and supervised by board-certified pathologists. For more information, please visit the website http://www.flagshipbio.com
About PrognosDx Health
PrognosDx Health, Inc. is an early-stage life science company formed to significantly improve the treatment of cancer and other complex diseases by developing novel, semi-quantitative and quantitative laboratory products based on global patterns of histone modification through technology it has exclusively licensed from the University of California, Los Angeles (UCLA). This platform technology has broad potential uses in the development of cancer prognostic assays, therapeutic response prediction assays, as well as research tools and reagents. A network of renowned academic researchers and clinicians supports PrognosDx Health, with expertise in the fields of cancer and epigenetics. The company has its headquarters in Palo Alto, California. PrognosDx is currently in the process of selecting strategic diagnostic partners for development of advanced IVD products for variety of cancer indications. The company also has plans to form strategic partnerships and license out its high value, histone-based biomarker tests to select and highly specialized CLIA laboratories in the US and abroad. For further information, please visit the website http://www.prognosdx.com.
# # #