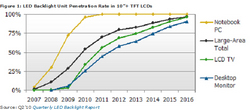 Many LCD makers didn't recognize the limited capacities of key material suppliers before fixing their LED TV panel shipment targets. In particular, PMMA and PET are in significant shortage...
Santa Clara, CA (Vocus) July 19, 2010
The LED backlight unit has emerged as a key factor in the TFT LCD industry, and is expected to maintain its growth momentum for the next several years. According to the latest DisplaySearch Quarterly LED Backlight Report, LED backlight shipments will pass those of CCFL backlights in all large-area TFT LCD panels and achieve 80% penetration in Q4'12.
There is no doubt that LED will be the mainstream light source in all LCD applications due to slim design, low power consumption and the fact that it enables high display performance. This represents an opportunity for display materials suppliers. For example, optical polymethyl methacrylate (PMMA) used in light guide plates, white polyester (PET) for reflector film, and sapphire for LED wafer substrates.
However, LCD makers have been suffering from key component shortages related to LED backlights in Q1'10. PMMA shortages have limited production of TV light guide plates. Many reflector film suppliers were stretched between demand from LCD and solar cell applications. In addition, many LED makers faced a sapphire substrate shortage.
"Many LCD makers didn't recognize the limited capacities of key material suppliers before fixing their LED TV panel shipment targets. In particular, PMMA and PET are in significant shortage. PMMA and PET suppliers are slowly expanding capacity since they need time to add new plants and face financial limitations," said Kevin Kwak, DisplaySearch Research Director.
How can supply chain participants address component shortages? In the case of LEDs, multi-vendor LED qualification and improved LED BLU design minimizing the number of chips can both help. Also, joint investments between LCD makers and PMMA suppliers can be a solution for securing light guide plate material.
"To expand the LED-backlit LCD TV business successfully, LCD TV panel or TV set makers need to consider product competitiveness, including effective procurement, design innovation, cell business models, and sales strategies because many consumers feel the price of LED-backlit LCD TV sets are still too high," noted Kwak.
The DisplaySearch Quarterly LED Backlight Report covers backlight unit capacity, backlight unit value chain, backlight unit cost structure by size, backlight unit shipment forecast by technology, CCFL demand forecast, and LED technology introduction with its application in backlight unit. The report also provides an analysis of large-area LED backlight unit cost structures and cost trends for notebooks, monitors and LCD TVs and an extensive overview of LED backlight TVs. For more information on the DisplaySearch Quarterly LED Backlight Report, contact Charles Camaroto at 1.888.436.7673 or 1.516.625.2452, email contact at displaysearch dot com, or contact your regional DisplaySearch office in China, Japan, Korea or Taiwan.
Register Now for Upcoming DisplaySearch Conferences
For more information or to register online, visit http://www.displaysearch.com/events .
DisplaySearch 19th Japan Forum—July 28-29, 2010 (Tokyo, Japan)
Digital Signage Conference—Tuesday, August 17, 2010 (San Jose, California)
TV Ecosystem Conference—Wednesday, August 18, 2010 (San Jose, California)
Emerging Display Technologies Conference—Thursday, August 19, 2010 (San Jose, California)
IFA DisplaySearch Business Conference—September 3, 2010 (Berlin, Germany
Media interested should contact Stacey Voorhees-Harmon at stacey(at)savvypublicrelations(dot)net or call 1.925.336.9592.
About DisplaySearch
Since 1996, DisplaySearch has been recognized as a leading global market research and consulting firm specializing in the display supply chain, as well as the emerging photovoltaic/solar cell industries. DisplaySearch provides trend information, forecasts and analyses developed by a global team of experienced analysts with extensive industry knowledge and resources. In collaboration with the NPD Group, its parent company, DisplaySearch uniquely offers a true end-to-end view of the display supply chain from materials and components to shipments of electronic devices with displays to sales of major consumer and commercial channels. For more information on DisplaySearch analysts, reports and industry events, visit us at http://www.displaysearch.com . Read our blog at http://www.displaysearchblog.com and follow us on Twitter at @DisplaySearch.
About The NPD Group, Inc.
The NPD Group is the leading provider of reliable and comprehensive consumer and retail information for a wide range of industries. Today, more than 1,800 manufacturers, retailers, and service companies rely on NPD to help them drive critical business decisions at the global, national, and local market levels. NPD helps our clients to identify new business opportunities and guide product development, marketing, sales, merchandising, and other functions. Information is available for the following industry sectors: automotive, beauty, commercial technology, consumer technology, entertainment, fashion, food and beverage, foodservice, home, office supplies, software, sports, toys, and wireless. For more information, contact us or visit http://www.npd.com and http://www.npdgroupblog.com . Follow us on Twitter at @npdtech and @npdgroup.
###