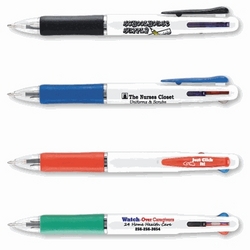 "I hide my 3 Color Pens in my nurses station at the hospital I work at. The doctors are always trying to 'borrow' them due to a color coded system that we use on our patient charts. I just love the way they write, smooth & comfortable." Janet Roberts RN
Hollywood, FL (PRWEB) July 26, 2010
Custom pen company Vendo Direct, Inc., reports that it's new ergonomic 3 Color Pen has quickly become a best selling item, rapidly out pacing the sales of more traditional pens. The 3 Color Pen is unique, as it contains three different colored ink cartridges.
"Our 3 Color Pen has become one of the most popular promotional items this year," stated company spokes person Michael Klein, "the simplistic ergonomic design of this pen is hidden within it's slightly wider barrel and soft comfort gripper. The perfectly balanced combination of function and form really makes this pen stand out amongst its peers. Because the pen features a red, blue and black ink cartridge, the end user is also getting the value of three pens in one." Klein proudly mentioned, "Our 3 Color Pen is at least 50% cheaper than similar name brand versions of the pen."
"We recommend this pen for anyone who has larger hands, aged hands, arthritis, or for anyone who does a lot of writing. It's really easy to switch from one color ink to the next, all you have to do is push down on the clicker and it instantly changes color. Many of the cheap knock off versions of this pen, have a tendency to stick while changing ink cartridges, but not ours, it functions 100% of the time. It's a very comfortable pen to hold and it's easy to use."
"We found that almost 70% of the people who purchased this pen had reordered them within a year. We've had a phenomenal response from the professional fields and various government agencies. The 3 Color Pen is a perfect value added item for almost any working environment."
Klein reluctantly admitted, "Its fun to write with and I find myself clicking away at the different colors all day long, it almost makes me feel like a kid again."
The 3 Color Pen features a white barrel accented with a; red, blue, green, or black rubber gripper and matching color clip. It contains a blue, black and red ink cartridge and can be printed in any one color of the client's choice. Standard printing time takes 5 to 7 days from the time of art approval, prepayment and order entry Vendo Direct, Inc. is offering free UPS Ground Shipping on this pen until the end of the year.
The 3 Color Pen can be reviewed with this link; Please direct all inquires to promos(at)vendodirect(dot)com
###