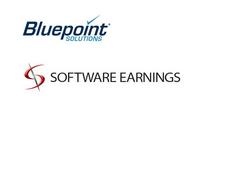 Memphis, TN (Vocus) July 20, 2010
Software Earnings, a leading provider of payments processing solutions for the banking industry, is pleased to announce a strategic corporate alliance with Bluepoint Solutions, a Microsoft Gold Certified Partner and leader in software technology for financial institutions. Both companies are at the forefront of remote deposit capture and image-based item processing, with Bluepoint taking the lead in enterprise content management. The two companies have agreed to share key products, creating a more seamless payments processing platform for each company's respective market.
Software Earnings will add Bluepoint's ImagePoint Teller, which brings front teller capture to Software Earnings' line of image-based payments processing solutions. Along with front teller capture, they are adding Receipt Manager, a solution that captures bank transactions, prints teller receipts, and stores them electronically for future research. Software Earnings will also add Fast Docs, an electronic storage solution that stores and organizes multiple types of documents for convenient retrieval at any bank branch. With the addition of these three products, Payments Navigator is now the most complete end-to-end payments processing system available on the market.
For Software Earnings, the integration of ImagePoint Teller and Receipt Manager provides a new spoke to the payments hub of their Payments Navigator solution. The addition of these products to their own line of solutions enables Software Earnings to provide their customers with front teller capture as well as electronic document storage and retrieval. This gives Software Earnings' customers the advantage of faster, more secure electronic deposits processing, as well as the efficiency of a paperless branch.
"We are excited to team up Bluepoint Solutions and their set of products. There is a move in the banking industry toward front teller capture, and Bluepoint Solutions has very strong products. In addition, they have a long, successful history in document management. We look forward to bringing this green process to our customers, enabling them to process documents more efficiently, save both time and expenses, and reduce paper consumption," said Software Earnings CEO Larry C. Thornton.
Bluepoint Solutions will incorporate Software Earnings' First Touch iCapture Thin Client Remote Deposit Capture System (a web-based image capture solution), OnTrac (a web-based file monitoring and messaging system), ATM Deposit Processing (a solution for both electronic and paper ATM deposits), and FFIEC Compliance Reporting Engine (a reporting tool for remote deposit capture). These products will enhance Bluepoint Solutions' current line of remote capture solutions for community banks and credit unions.
"Financial institutions of all sizes will benefit from the lower costs and streamlined workflow garnered when these solutions work in tandem. Our alliance with Software Earnings will help our customers better leverage their existing technology investments and deliver even more efficiency to our more than 8,000 total branches. Likewise, we look forward to working with Software Earnings to provide their large bank customers with our integrated front teller capture solution and a paperless branch," said Bluepoint Solutions president and CEO Hal Tilbury.
Software Earnings' Payments Navigator is a proven solution in eight of the top ten large banks in the United States. The company is proud to provide the most advanced payments processing system along with outstanding levels of customer service. They are confident that these new products added to their high-quality, high-efficiency system will give customers the best possible payments processing solution on the market.
The corporate alliance between Software Earnings and Bluepoint Solutions will provide each company with a more complete processing solution. The two companies anticipate that the mutual exchange of high-quality products and solutions will result in maximum value for their customers.
About Software Earnings Inc.
For over 20 years, Software Earnings Inc. (http://www.softwareearnings.com) has continued to deliver reliable, high-performance check processing solutions. Software Earnings provides financial institutions with an end-to-end payments processing solution featuring our software applications and processes in one complete package— Payments Navigator. Payments Navigator now includes RoboBalancer, an automatic balancing solution that provides major cost savings for financial institutions. For more information, please visit Software Earnings at http://www.SoftwareEarnings.com.
About Bluepoint Solutions
Vista, Calif.-based Bluepoint Solutions is a leading innovator in remote deposit capture (RDC), image-based item processing, enterprise content management and receipt management. Adhering to strict best practice standards, Bluepoint delivers proven technology solutions and consulting services designed to achieve the strategic goals of increased employee productivity, reduced operating costs, and improved customer service. Bluepoint's family of products and services offer a complete, end-to-end, image–based item capture and payment processing solution. For more information, visit http://www.bluepointsolutions.com.
###