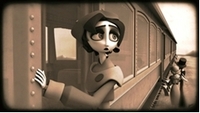 Sarasota, FL (Vocus) July 19, 2010
Ringling College of Arts and Design Computer Animation 2010 graduate Jennifer Bors was awarded a Gold Student Academy Award from the Academy of Motion Picture Arts and Sciences for her senior thesis animation, Departure of Love. Ms. Bors was one of only 13 students from 10 U.S. colleges and universities who received prizes in the 37th Annual Student Academy Awards competition.
Student nominees were hosted in Los Angeles for a week of industry-related activities and social events that concluded with the awards ceremony at the Academy's Samuel Goldwyn Theater. Over the past 12 years, eleven Ringling alumni have been honored with a Student Academy Award.
Jennifer Bors' Gold Student Academy Award-winning film - 'Departure of Love' - uses silent film tradition to depict a young man discovering his love is leaving on a train. A clip from the film, provided by Ms. Bors, is viewable at http://www.oscars.org/video/watch/37saa_ani_departure-of-love.html
Ms. Bors said, "This was possibly the best experience of my life. Winning the gold for my animation was huge honor. I met some of the most incredible artist, directors, and writers and the Academy was so generous for all they did for us. The moment it was revealed on stage it all seemed very surreal - It was something I had fantasized about as a kid. Standing in front of those famous movie makers and being applauded for something I've done, but I don't blame any of it on luck. I owe so much to my wonderful friends and family who have influenced me greatly throughout my college career. I've had the pleasure of working with some of the most genuine artists at Ringling, and though I am surprised to have won, it's no surprise who I have to thank for it."
Past Ringling College Student Academy Award winners include:
2008 - Evan Mayfield - The Visionary
2007 - Bevin Carnes - A Leg Up
2006 - Meng Vue - The Dancing Thief
2005 - Josh Beveridge - Things That Go Bump in the Night
2002 - Don Phillips, Jr. - Passing Moments
1998 - Pete Choe, Jeff Baker, Neil Nellans, Dominic Cecere, James Hill
A detailed synopsis of Ringling alumnae achievements and recent movies featuring the animation work of Ringling graduates follows as Appendix A.
About Ringling College of Art and Design
Ringling College of Art and Design is a private, not-for-profit, fully accredited college offering the Bachelors of Fine Arts degree in 13 disciplines: Advertising Design, Computer Animation, Digital Filmmaking, Fine Arts, Game Art & Design, Graphic & Interactive Communication, Illustration, Interior Design, Motion Design, Painting, Photography & Digital Imaging, Printmaking and Sculpture, and a Bachelor of Arts degree in the Business of Art & Design. Located on Florida's Gulf Coast, the picturesque 47-acre campus now includes more than 100 buildings, and enrolls 1,320 students from 46 states and 46 countries. It is recognized as being among the best and most innovative visual arts colleges in the United States as well as a leader in the use of technology in the arts. http://www.Ringling.edu
Appendix A:
Ringling Alumni Help Create Academy Award Winning Films Avatar and Up
Ringling alumni are keeping close tabs to Hollywood these days – by working on Academy Award winning films. Sunday night at the Oscars, 2 films, Avatar and Up, took home a total of 5 Academy Awards. A combined total of 17 Ringling alumni put their creative minds to work on these two films.
Avatar
Avatar is the highly acclaimed film by famed director James Cameron. Now the highest grossing film of all time (surpassing Cameron's other masterpiece, Titanic), Avatar takes us to the planet of Pandora in the year 2154 where mining threatens the Na'vi tribe's existence. Shown widely in 3D, Avatar was written in 1995 by Cameron, who had no technological way to achieve his ideas at the time, so he tabled the script until 2005 when technology was finally able to do what he wanted - make extensive use of motion capture technology. Cameron used this motion capture technology for bodily movements and facial expressions in the film. Contrary to popular belief, Avatar is not really an animated film since it is 40% live action and 60% photorealistic CGI.
At this year's Academy Awards, Avatar collected three Oscars including Best Visual Effects, Art Direction, and Cinematography. It was also nominated for Best Picture and Best Director. There were 11 Ringling alumni that worked on Avatar:
Jeff Baker, 2004, Computer Animation
Rafael Burgos, 2004, Illustration
Thelvin Cabezas, 2003, Computer Animation
Scott Dace, 1999, Computer Animation
Ryan Duncan, 2002, Computer Animation
Shine Fitzner, 1994, Computer Animation
Eric Grimenstein, 2004, Computer Animation
Danny Keller, 1998, Computer Animation
Stephen Pavelski, 1998, Computer Animation
Jance Rubinchik, 2004, Computer Animation
James Willingham, 2004, Computer Animation
Erik Winquist, 1998, Computer Animation
Up
Up is director Pete Doctor's second feature-length film (behind Monsters, Inc.) and features an elderly widower named Carl and a young, overeager, explorer named Russell, who fly to South America in a floating house suspended from helium balloons. Produced by Pixar Animation Studios and distributed by Walt Disney Pictures, Up previously won Golden Globe Awards for Best Animated Feature Film and Best Original Score from the Hollywood Foreign Press Association.
At this year's Academy Awards, Up grabbed two Oscar awards for Best Animated Feature Film and Music (Original Score). It was also nominated for Best Picture, making it only the second animated film in history to be nominated for this category. These six Ringling alumni helped contribute to Up's success:
Lindsay Vander Galien, 2006, Computer Animation
Nick Pitera, 2008, Computer Animation
Katie Coyle, 2005, Computer Animation
Gaston Ugarte, 2002, Computer Animation
Luke Martorelli, 2000, Computer Animation
Alonso Martinez, 2008, Computer Animation
The following alumni worked on Oscar-winning Ratatouille 2008 (80th Academy Awards):
Gaston Ugarte '02
Doug Dooley '95
Jaime Landes '04
Amber Rudolph Martorelli '01
Ringling College alumni have also worked on each of these past Academy Award-winning features
Best Animated Feature
'05 – Wallace & Gromit
'04 – Incredibles
'03 – Finding Nemo
'02 – Spirited Away
'01 – Shrek
Best Visual Effects
'05 – King Kong
'04 – Spider-Man 2
'03 – Lord of the Rings: Return of the King
'02 – Lord of the Rings: The Two Towers
'01 – Lord of the Rings: Fellowship of the Ring
Ringling College alumni have worked on each of the top 10 highest-grossing animated films of all time.
The 2005 Academy Award-nominated short animated film "Gopher Broke" by Ringling College alumnus Jeff Fowler '02 is being made into a full-length feature. http://www.blur.com
Electronic Arts/Gaming Graduates info
With the exception of this past year (when the industry is down), Electronic Arts (EA), the world's largest gaming company, has been making about 17 offers to the graduating class. With the average class being at 38 grads, that makes about 45% of the class getting an offer from EA alone. Add in offers from other game companies, and it climbs to around 61% going into gaming.
About 30 alumni are currently working for EA both in Orlando at the Tiburon Studio and in California.
Ringling College is one of only eight colleges selected by Sony Pictures Imageworks as an IPAX partner http://www.sonypictures.com/imageworks/ipax/index.php
###