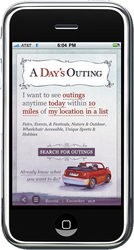 new iPhone App finds outings and fun things to do that are off the beaten path, based on your current location and personal interests
Charlottesville, VA (PRWEB) July 30, 2010
A Day's Outing today announced its new location-based mobile edition of their popular online travel search tool that helps users find nearby day trips, vacation side trips and weekend getaways all across the country. A Day's Outing is a free, web-based location search tool for discovering the best local events, destinations and roadside attractions, personalized for each user. With the availability of the new iPhone mobile app, now users can conveniently find great local events in the palm of their hand. Available immediately, the new iPhone app can be download on Apple's iTunes App Store. The price of the mobile app is $2.99.
Google's newly released Google Places highlights the growing demand to provide people with local information about businesses real-time, at their fingertips. Rather than focusing on businesses, A Day's Outing is instead focused on providing users with detailed information about events and destinations on a local level, based on the user's starting location. A Day's Outing provides a fast, convenient way to search for a last minute day trip or vacation side trip for singles, couples and families. It is the only native iOS app that lets users search across multiple categories of interest - simultaneously, saving them time from having to repeatedly enter multiple category types based on their different interests. A Day's Outing uniquely matches each user with the types of local events and destinations that meet their individual interests, specific unique location and preferred driving distance. Additionally, A Day's Outing doesn't just focus on large, metropolitan cities, but also helps users discover great local events, hidden gems, and outings in nearby smaller towns and rural communities that are off the beaten path or relatively unknown.
A Day's Outing's mobile app, developed by Bytesize Creations in Cape Town, South Africa, is based on a unique and searchable, location-based calendar of local events, destinations and attractions. The geo-coding of each outing to its specific longitude and latitude enables users to find outings based on their current location, no matter where they travel around the nation. To help users easily navigate country roads and city streets, A Day's Outing routes users from their location with turn-by-turn driving directions to their selected outing.
A Day's Outing new iPhone app features include:

Customizable search capabilities, including type of outing, date for travel and desired driving distance to an outing
Search results are based on proximity to each user's unique starting location
Outings are viewable either in a list or on a location-based map
View detailed descriptions about each outing, including fees, hours, and special instructions
Users receive turn-by-turn driving directions from the current geo-location to each outing
Keyword-based searches to quickly find a specific event
Save top "starting locations" for each user, so one does not have to reenter a frequently visited city repeatedly
Save detailed information on the 10 previously viewed outings (in the event web access is lost in rural areas)
Save "Favorite" outings for quick and easy retrieval
Social location service capability let users share upcoming outings with friends across social media sites
Compared to other online event sites that focus on a younger demographic, gaming and social networking, A Day's Outing has selectively focused on activities, destinations and outings that offer many family-friendly options. The service essentially boils down results to only the "good stuff," eliminating bars, gentlemen's clubs, casinos, singles parties, etc. The service curates highly refined outings around eleven, select categories, including:
Fairs & Festivals
Gardens & Parks
History & Heritage
Farms, Food & Wine
Antiques
Family & Children
Theater & Stage
Museums & Art
Unique Sports
Nature & Outdoors
Wheelchair Accessible
Whether travelers are looking for something to do at the spur of the moment, planning for the weekend or searching for a day trip, A Day's Outing is a fast, convenient and reliable go-to guide. The mobile app is an essential way to help people-on-the-go discover what's happening around the corner, in a nearby town, or farther away, based on their traveling preferences.
"A Day's Outing is about helping our users find great local events, personalized to their liking, at a moment's notice in the simplest, fastest way. We're thrilled to extend our web-based service to the growing number of iPhone users, and just in time for them to indulge in summer day trips with friends and family," commented Elizabeth Muse, A Day's Outing's CEO. "With a quick and simple search on A Day's Outing, a couple can make a last minute decision as they drive down a country road to visit an antique shop in a nearby town. Alternatively, families can search for outings in the city that they are going to visit the next day and find the perfect museum or park that the whole family can enjoy."
About A Day's Outing
Based in Charlottesville, VA, A Day's Outing is an online search tool for short-distance day trips and weekend outings. A Day's Outing is the first online search tool aimed at women to help them quickly find outings for themselves or their families. Users benefit from the service's simplicity, highly personalized outings and events, and timesaving functionality. For more information about A Day's Outing, please visit http://www.adaysouting.com.
About Bytesize Creations
Based in Cape Town, South Africa, Bytesize Creations is a designer / developer duo that specializes in software for the mobile, web and desktop platforms where their primary experience lies in iPhone & iPad development as well as rich internet applications. Their attention to detail and applied expertise in simplifying complex user interface problems, results in innovative, powerful software that is easy to use and looks great. More information is available at http://www.bytesizecreations.com or http://www.designculprit.com.
(Editors Note: Artwork available at http://www.adaysouting.com/content/iphone or upon request
Press Contact:
Carmen Hughes
Ignite P.R.
w: 650.227.3280 ext. 1
c: 650.576.6444
# # #