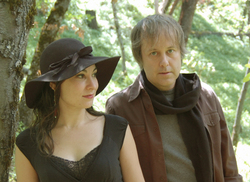 100% of the proceeds of the song "Fragile Day" will benefit three important charities that are making a difference to help clean up the damage to the environment and wildlife from the Gulf BP oil spill.
Ashland, OR (PRWEB) July 20, 2010
The unimaginable Gulf Oil Spill has left us all with an intense combination of emotions, from sadness to anger to helplessness. How could this happen? And now that the leak has been stopped, what can we do as individuals to help fix this environmental disaster?
A group of music industry veterans answers the call by coming together to release a new song called "Fragile Day" by musical duo Wilderland. The song is available for sale at iTunes ($1.98 per download) and 100% of the proceeds will benefit three important charities that are making a difference to help clean up the damage to the environment and wildlife: The Gulf Restoration Network, EarthShare and The WILD Foundation.
A music video of the song is available at http://www.FragileDay.com which also provides information about downloading the song on iTunes and how to contribute to this worthy cause.
Heralding from the mountains of Ashland, Oregon, Wilderland features singer-songwriters Scott Blum and Kat Sanchez. A veteran from the music industry, Blum (multimedia producer for Peter Gabriel, Soundgarden and many others) balances the exquisite vocal styling's of Sanchez who had been a member of a wide range of local bands most of her life.
After writing several original songs, the musicians began collaborating with renowned underground DJ and multi-instrumentalist Rara Avis (Desert Dwellers, Shaman's Dream) to realize their musical vision. It was during these studio sessions that the Gulf Oil Spill tragedy happened which deeply affected all involved in the project. Ironically, the song "Fragile Day" was being worked on at that very moment, and when explaining the song's lyrics to Avis, Blum realized that a powerful coincidence was afoot.
The song includes the lyric "Fish are dimming while they're swimming / Blackened ocean of foam" which, although written nearly two years prior, was about fish dying because of an oil spill. Credit is given to Blum's wife Madisyn Taylor who suggested that "Fragile Day" be released immediately with all proceeds benefiting the habitat affected by the oil spill.
"I was struck by the synchronicity of working on this song at the same time as millions of gallons of oil were gushing into the Gulf of Mexico," songwriter Blum explains, who is also a bestselling author and co-founder of the popular spiritual website DailyOM. "I had no choice but to present the track as an offering to help the efforts of those that are leading the charge in the cleanup of this tragedy. I was also humbled by the generosity of the dozens of music professionals, artists, authors and media companies that have all come together to help make a difference by making this effort successful."
Also touched by the environmental tragedy, music industry superstars Toby Wright (Grammy award winning producer of Alice in Chains, Korn, 3 Doors Down, etc.) and Stephen Marcussen (mastering engineer for the Rolling Stones, Stevie Wonder, Seal, Cher, Paul McCartney, etc.) both contributed their expertise to this worthwhile project. Fine art photographer Roy DiTosti provided the image entitled "Blue Eggs Nest" which was used for the album cover.
Wilderland is currently in the studio wrapping up their first album which is planned for release in 2011.
Visit http://www.FragileDay.com to watch the emotionally powerful music video and download the two song single for $1.98 to support this worthy cause.
###