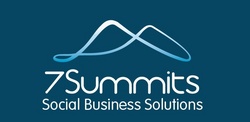 7Summits is expanding and it's exciting to join a stellar team and business that's delivering some amazing work with a growing client base.
Milwaukee, WI (PRWEB) July 19, 2010
7Summits, a Social Business Agency, announced today that the firm is expanding its leadership team with the addition of James Davidson as Vice President, Digital & Community Strategy.
"Community is now a key element of any Digital Strategy," said Paul Stillmank, CEO. "7Summits has developed new models that guide companies to integrate their social media and community plans for real business outcomes. Our proprietary frameworks drive more awareness and relevance pre-sales to effect stronger conversion while providing on-domain communities that involve customers in your brand and products to create engagement that can be seeded off-domain to keep the cycle going. We're already leveraging James' thought leadership to refine these models with clear, pragmatic solutions that fuel execution."
Davidson brings over 10 years of experience delivering digital marketing strategy and technology solutions for a variety of Fortune 500 and mid-sized companies on both the agency and corporate side. James' experience includes the creation of custom and tailored on-domain social networks, integration to off-domain social outlets, and the creation of focused solutions like Social Recruiting and Social Press Rooms. These solutions leverage best-in-class software like Jive SBS and Shoutlet for a sustained effect.
"Paul is both a pioneer and a thought leader in the social media space, particularly as it relates to its application for business. He is more than respected by his peers and the industry. When he contacted me about the opportunity to lead Community & Digital Strategy at 7Summits, I jumped at the chance," said Davidson. "Paul's approach challenges companies to step back from the hype of social media and focus on strategy, operational alignment and success measures before execution. That's refreshing when so many are rolling out Facebook programs without any sense for ROI. 7Summits is expanding and it's exciting to join a stellar team and business that's delivering some amazing work with a growing client base."
About 7Summits
7Summits is a Social Business Agency founded in 2009 with the mission of formulating social business plans that drive value through participation, collaboration, and optimization. The firm refers to this as Applied Social Media. 7Summits is dedicated to helping clients apply social media to better achieve their business imperatives by applying social technologies through their creative, digital expertise. The firm offers deep expertise in marketing and social media strategy to help organizations wade through the hype and focus on moving key operational metrics.
###