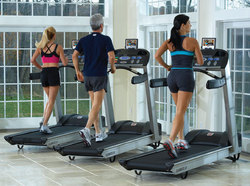 Beyond the basic differences and similarities between the L7 and L8 models, there are several subtle differences that need to be explored by the consumer
Phoenix, AZ (PRWEB) July 21, 2010
With so many different Landice treadmills to select from, choosing the best one to suit an individual's needs can be difficult. To help make the comparison process easier, the experts at At Home Fitness have launched an online comparison tool that can be accessed at AtHomeFitness.com.
"When it comes to comparing the popular L7 and L8 Landice treadmill models, the differences can seem quite subtle," explains Bryan Dorksen, Owner of AtHomeFitness.com. "Our sales representatives are trained to explain these differences to our customers so they can make a more informed decision when making a purchase."
All of the L7 and L8 Landice treadmills offer 4 HP, making it possible for each machine to achieve speeds ranging from 0.5 to 12 mph. Every L7 and L8 Landice treadmill also features the patented 5x "Softer Than Grass" VFX Shock Absorption System as well as a 15% electric grade elevation. In addition, regardless of the model purchased, each one is backed by Landice's popular 5 year warranty on parts and 1 year warranty on labor. L7 models, however, feature a 20 x 58 belt while L8 models offer a roomier 22 x 63 belt.
"Due to the longer and wider belts the L8 Landice treadmills have to offer, those who have a longer stride or simply want to have more workout space may prefer the L8 models," noted Dorksen. "The L8 is also capable of handling people weighing up to 500 pounds, while the L7 can accept users weighing up to 400 pounds."
The added belt width and length does come at a cost, as the L8 Landice treadmills weigh 415 pounds, while the L7 treadmills weigh 300 pounds. The L8 models also take up more floor space, with a footprint of 32 x 82, while the L7 models boast a footprint of just 32 x 77.
Other features that all L7 and L8 Landice treadmills share is the option to add full length medical side hand rails, the oversized reading rack and the double water bottle holders. In addition, all L7 and L8 Landice treadmills have a full club rating and are commercially rated as well.
"Beyond the basic differences and similarities between the L7 and L8 models, there are several subtle differences that need to be explored by the consumer," states Dorksen. "For this reason, we usually recommend choosing between the L7 and L8 models first and then comparing the features available with each model."
While every L7 and L8 Landice treadmill does feature the heart rate read out, only the Pro Sport Trainer, Cardio Trainer and Executive Trainer models include the standard wireless-chest-strap heart rate monitoring system. These models are also the only ones to offer custom programming as well as Quick Key Pads. Furthermore, the standard Accutrack contact heart rate monitoring system is automatically included with the Cardio Trainer and Executive Trainer models, but is offered as an option with all other models.
"The Executive Trainer model within the L8 line of treadmills is certainly the one that offers the most user flexibility," continues Dorksen. "For example, it is the only one with the User ID feature as well as with the personal calendar feature."
To learn more about At Home Fitness and the home fitness equipment the company has to offer, visit our Landice treadmills comparison page.
# # #