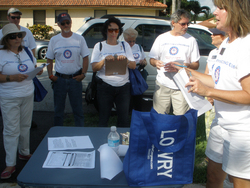 She doesn't listen! I have written to her telling her that I don't want these things the government is doing, but she just keeps voting for them!
Hollywood, FL (Vocus) July 20, 2010
(Vocus) July 20, 2010 -- By Jerry Bell, Independent Journalist. This past Friday, incumbent Debbie Wasserman Schultz touted on FOX News that she is very confident about re-election because she will be running on her record. Amongst a crowd of Lowry for Congress volunteers gathered to walk the district this weekend, Robert Lowry replied to her "conceited" statement by declaring: "So will I".
Lowry, who began his campaign 16 months ago, and is the frontrunner in 3-way Republican race to the primary, further outlined her record of the past five years. "When taking office Wasserman Schultz inherited a $7.9 Trillion dollar deficit. She voted to expand it to over $13 trillion today - almost doubling it. This equates to shifting her spending agenda onto the backs of our children in the amount of $42,000 each before they even graduate high school, and that number is growing every minute."
Surprisingly, the frustrations expressed by Robert Lowry with the congresswoman were echoed in the sentiments of residents as they answered the door. One female resident was very critical of the congresswoman saying "She doesn't listen! I have written to her telling her that I don't want these things the government is doing, but she just keeps voting for them!" Similar statements were made by residents as the neighborhood walk continued.
As the precinct walk continued, Lowry recited the Congresswoman's voting record. "Wassermann Schultz has voted for the Cap and Trade Bill that is now in the Senate for passage. In this initative based on unsettled science, she and Pelosi want to skyrocket your energy bill. She was the spokeswoman for the 2,700 page Health Care Bill and enthusiastically voted for it. Having read the bill myself, I doubt she read it. We all now know will increase our debt, increase our taxes, and will ration care to our seniors. It will reduce quality of care, and you will, most likely lose the Health Insurance you have. Debbie Lied."
Although Wasserman Schultz scheduled a joint town hall meeting with Senatorial Candidate Kendrick Meek yesterday, Lowry advised his team of volunteers to boycott the meeting, stating, "We already know that it will be nothing more than an infomercial of Pelosi - Wassermann Schultz policies. We should concentrate on garnering votes by walking the district, rather than simply protesting on a street corner with a sign. Now is the time for concentrated effort to remove her from office. The time for protest is over."
Orchestrating and implementing this intentional shift of strategy is Karin Hoffman, founder of DC Works for Us, the largest grassroots organization in South Florida. Her work is the vanguard of refocusing the "rally/protest" strategy, into a "grassroots campaign for conservative candidates" strategy. This effort has been recognized and adopted by many nationally recognized Tea Party groups around the country, as well as the Republican Party itself. Lowry remarked "I am blessed with an incredible team of extremely motivated and sincere volunteers. They are the true patriots of today, the Paul Reveres of this time."
He continued, "Debbie has spent her time in Washington with one agenda in mind; To advance her career, not to represent her constituents. The reckless spending, the partisan politics, and the manipulation of facts must now come to an end. It is the only way to secure the future of our children and our country's survival."
The Republican Primary is on August 24th, after which Candidate Lowry will face incumbent Congresswoman Wasserman Schultz on November 2nd. For more information visit http://www.lowryforcongress.com .
###