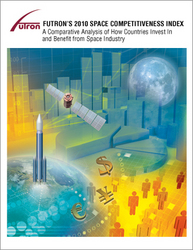 The 2010 results show that even as countries continue to collaborate in space, competition is growing more intense.
Bethesda MD (PRWEB) July 21, 2010
This week marks the 41st anniversary of the Apollo 11 mission, the culmination of a space race between the United States and the Soviet Union, the two dominant space powers of that era. By contrast, the United States today is one of many spacefaring nations—a fact recognized by the new U.S. National Space Policy, which places a greater emphasis on international cooperation. Understanding the capabilities of the many countries now active in space is essential to an effective implementation of such a policy. The recently-released third edition of Futron's Space Competitiveness Index: A Comparative Analysis of How Countries Invest in and Benefit from Space Industry is a tool that can help policymakers, executives, analysts, and others compare the strengths and weaknesses of major space-participant nations.
"The 2010 results show that even as countries continue to collaborate in space, competition is growing more intense," observes Futron Chief Operating Officer Peggy Slye. "Dominant actors are increasingly challenged by a second and third tier of space leaders, and the competitive gaps among all nations are narrowing."
2010 Competitiveness Trends Among Ten Leading Nations
United States
The U.S. remains the clear global leader, but the county's position has eroded in each of the past three years. The formulation of a new national space policy is a step in the right direction, but as Futron CEO Joe Fuller notes, "To retain its leadership position, the U.S. must leverage its secret space weapon—American industry—and align it with strategy, policy, and budget."
Russia
In 2010, Russia was a clear winner, based on the doubling of its space budget and renewed focus on monetizing national space investment. "NASA and the U.S. government could learn a lot from Russia," says Jonathan Beland, a Futron analyst specializing in the region. "Russia has become partner of choice for space agencies around the work seeking to develop new capacity. From South Korea to China, from private enterprise to governments, Russia is capitalizing on its space investments and developing long-term relationships with emerging powers."
Europe
European competitiveness continues to rise as the continent solidifies regional policy and institutions. "Europe's strength lies in its willingness and ability to foster partnerships, both within the continent and outside of it," notes Futron Senior Program Manager Cathy De Peuter. However, while government support for European industry has created strong global competitors, concentration within the sector can limit the innovation and entrepreneurialism associated with emerging NewSpace opportunities.
Japan
Japan continues to realize competitiveness gains as it implements its comprehensive Basic Space Law, which provides a new military dimension to Japanese space activity and creates an executive-level space office, the Strategic Headquarters for Space Activity (SHSP). "Beginning with the reorganization the Japanese space agency in 2003 and ending with the Basic Space Law, this first decade of the 21st century has shown Japan's clear re-commitment to space at the national decision-making level," says Futron Senior Analyst David Vaccaro. "Going forward, it will be important for Japan to reflect this renewed space engagement at home in its many space partnerships abroad."
China
China remains a leading space actor, but the country has recently experienced slight declines in relative competitiveness due lower launch tempos this past year and limited commercial space activity. "Over the past decade, China has arguably gone further, faster than any other spacefaring country," notes Vaccaro. "But its future international competitiveness will be more reliant on China establishing an international commercial space footprint."
India
India's space program continues to mature by incrementally developing new organizational and technical capability. While 70% of its space program targets societal benefits—mostly communications and Earth observation—the country's exploration program is fast emerging, including its first dedicated astronomy satellite, Astrosat, and the Indian military is also investing. As Futron Senior Program Manager Jay Gullish puts it, "India has world-class aspirations for its space program, and the Indian space workforce is underpinned by a strong belief in hard work and determination. It is clear India is emerging as a major collaborative space power, but arriving at that goal will be based on the achievement of steadily escalating technology milestones."
Canada
Canada's nuanced approach balances domestic and international space programs, priorities, and partnerships to yield key competitiveness advantages. According to Gullish, "Canada punches above its weight. Given the country's limited investment, its leaders have selectively targeted key relationships and technologies that maximize economic and commercial benefits. Canada provides an important model for emerging space nations to study as they craft their own policies."
Israel
Israel continues to play important niche roles in the optical equipment and small satellite markets, but lacks a global commercial presence and is inhibited by a lack of clear government commitment to its national space program. Critical ties to its defense and military industries, however, provide import commercial synergies. "At the end of the day, Israel is focused on tactical military space applications, and has been highly effective in developing critical and innovative technologies such as TecSAR," notes Gullish. "But as more players engage in the space sector, maintaining a technological edge will become more difficult. Absent civilian space investment and sizeable commercial contracts, Israel is in a precarious position—and it should therefore consider more sustainable approaches for its space program."
South Korea
South Korea's high visible investment in launch vehicle and spaceport development has not yet paid competitiveness dividends the country had hoped, as South Korea lost ground in an increasingly crowded field. Despite launch setbacks, South Korean policymakers remain committed to developing a domestic space industry and increasing national technology readiness levels. As Futron Analyst Ian Christensen notes, "On the one hand, South Korea appears poised to advance as elements of its national space program come together; on the other hand, one wonders whether South Korea's focus on its launcher program has detracted from other aspects of its space infrastructure, such as its successful commitment to Earth observation systems."
Brazil
Brazil's position as a top-10 space-participant nation is in question, as three years of space competitiveness data indicate a program suffering from strategic drift. Brazil's rocket program has yet to recover from the 2003 VLS explosion on the launch pad, and continued investments, including a joint launch venture with Ukraine, have yet to show returns. However, "a policy refresh may be on the horizon," observes Vaccaro, pointing to the discussion, entitled "Toward a New Brazilian Space Approach," that the President of the Brazilian Space Agency held before an advisory committee to the National Congress of Brazil in September 2009.
For more information, members of the media are invited to schedule a briefing on Futron's 2010 Space Competitiveness Index at their convenience. Kindly email the contact below with any questions or comments.
Julianne Twining
+1 (301) 347-3455
jtwining(at)futron(dot)com
Futron Corporation
7315 Wisconsin Avenue, Suite 900W • Bethesda, MD 20814
http://www.futron.com
ABOUT FUTRON
Futron Corporation is a premier provider of decision management solutions that improve outcomes for our clients by enhancing their ability to make complex choices. Our proprietary analytic models, methodologies, and data repositories transform information into intelligence. Our multidisciplinary, world-class team offers comprehensive knowledge of the aerospace, satellite, and telecommunications industries, with deep experience in statistical analysis, competitive assessments, forecasting, and strategy. Founded in 1986, Futron has a staff of some 100 experts, including policy analysts, management leaders, economists, regulatory specialists, and engineers. Futron is headquartered in Bethesda, Maryland with offices in Houston, Texas and Hampton, Virginia.
Futron Corporation's Space & Telecommunications Division provides strategic market and technology advising services to global commercial and governmental aerospace enterprises.
# # #