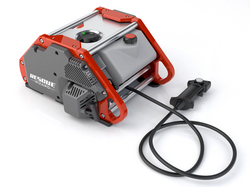 Sarasota, FL (PRWEB) July 21, 2010
ROBRADY design has been awarded a Silver IDEA award in the Commercial/Industrial concept category of this year's competition for their Rescue Wizard portable winch design. In disasters such as Hurricane Katrina or the Haitian earthquake, the ability to mobilize and power up rescue assets means the difference between life and death. With this in mind, Andy Morrison, CEO of Wizard Machines, came to ROBRADY with a revolutionary idea for a life-saving tool unlike anything on the market.
The Rescue Wizard is a gas-powered, man-portable winch capable of pulling loads as heavy as 12,000 lbs. (5,443.108kg). Designed for simple operation under the hardest circumstances, the winch can be used where destroyed roads and tight fits make heavy machinery and vehicles unfeasible and when electric power is unreliable, impractical (e.g. in or near water) or even nonexistent. As such, the winch is ideal for emergency rescue workers, forestry personnel, road crews and the military. With the Rescue Wizard, ROBRADY has surpassed the concept profile, leveraging mechanical and industrial design expertise to realize Morrison's vision for a life-saving device with great commercial appeal. Aside from obvious rescue applications, the Rescue Wizard could be indispensable for road crews, the forestry service, the military and outdoorsmen as well.
The International Design Excellence Awards (IDEA®) competition is a celebration of the year's most inventive and creative product and product concept designs. Of the entries submitted, the judges recognize Finalist, Bronze, Silver and Gold Awards. This year the competition received the most entries since it began 30 years ago. Out of 407 finalists, 38 were honored with the Gold award; while 64 received the Silver award and 88 won the Bronze award. IDSA has partnered with the Henry Ford in Dearborn and all finalists from this year will go into the permanent collection of the museum.
Andy Morrison of Naples, Florida founded Wizard Machines in 2008. Morrison has had the idea for the Rescue Wizard for the past 25 years. Over the years, with every disaster, Mr. Morrison thought about that ideal machine but the technology did not exist to achieve the needs he envisioned for a reliable machine that was light and durable in nature. Finally, in 2008 he became aware of a new rope that had all of the attributes of steel cable, but with 10% of the weight. At about the same time there was a devastating earthquake in Sichuan, China that collapsed as many as 600,000 structures in a matter of seconds. Those two events motivated him to begin a search for a firm that shared his vision. That culminated in his collaboration with ROBRADY Design, of Sarasota, Florida, and the founding of Wizard Machines. Morrison has invested the last two years and substantial personal funds to bring the dream for the Rescue Wizard to reality.
ROBRADY design is a multi-disciplined product design and development studio that offers its multinational client base—including General Electric, Mercedes-Benz, Dell Computers, Parker Hannifin, AT&T, Merial and Volvo Penta—progressive industrial design, mechanical design and engineering, graphics /packaging / GUI / web and eCommerce design, market research, brand and retail development, complete rapid prototyping and production program management. ROBRADY design stresses comprehensive speed-to-market product solutions by collaborating to identify the greatest areas of opportunity and producing innovative designs to deliver profitable product solutions. ROBRADY delivers design, production and capital solutions to their clients in support of their research to reality philosophy.
# # #