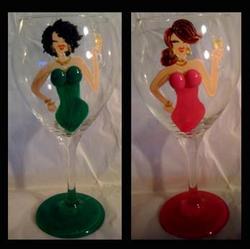 These glasses are a fun gift for women and men. What man wouldn't want a beautiful woman adorning his wine glass?
Lake Jackson, TX (PRWEB) July 22, 2010
GreenProductsandGifts.com features a huge selection of Eco Friendly products including gifts, garden, decor, furniture and jewelry all created from recycled materials. Buying products made from recycled materials, such as recycled glass closes the recycling loop and reduces the amount of items that end up in landfills.
Sustainability means creating a better quality of life for all people now as well as for generations to come. One of the easiest ways is by recycling glass. Glass is made from natural materials like sand and has a low rate of chemical reaction with the contents of the container, which makes it a safe material to be reused. Glass can be recycled forever without losing its purity or strength as the major ingredient in new glass containers. A glass container can go from your recycling bin to a store shelf in as little as 30 days.
Jennifer Sterling, co-owner of GreenProductsandGifts.com states, "Painted Wine Glasses make for a fun Bridesmaid gift, Birthday gift, Christmas gift or just a fun gift to celebrate friendship. These fun booby wine glasses are the perfect green gift for just about anyone!" The colorful toasting glass is made of recycled glass by Libbey and measures approximately 9 inches tall that can hold 20 ounces of your favorite beverage.
Custom painted wine glasses are a personalized gift that will be treasured for a lifetime! The website even allows you to create one in your likeness by selecting things like specific hair color, hair style, dress color and what type of wine in the glass.
Jennifer Sterling also emphasizes, "These glasses are a fun gift for women and men. What man wouldn't want a beautiful woman adorning his wine glass?"
Breast cancer affects millions of people every year. GreenProductsandGifts has teamed up with the Susan G. Komen foundation and will donate five percent of every glass sold to help support Breast Cancer Awareness. Susan G. Komen for the Cure® is the world's largest grassroots network of breast cancer survivors and activists fighting to save lives, empower people, ensure quality care for all and energize science to find the cures. The Komen foundation is fighting every minute of every day achieve a vision of a world without breast cancer. We can make a difference!
###