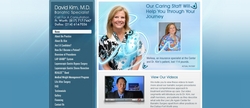 Colleyville, TX (Vocus) July 20, 2010
The Nate Newton weight loss surgery story has become an inspiration for a growing community in the Dallas-Fort Worth area, further supported online by Dr. David Kim's Facebook network, as the three-time Super Bowl champion continues to shed weight following his vertical sleeve gastrectomy (VSG) procedure. With over 100 pounds lost, Mr. Newton is more than halfway through his weight loss journey in pursuit of his goal weight of 230 pounds. At his most recent office visit, he weighed 267 pounds. Throughout the entire process, Mr. Newton has been documenting every step - from his experience with the surgery to the changes he has made in his diet and exercise regimen - to provide a real-life look into the weight loss procedures performed by Dr. Kim.
Laparoscopic gastric sleeve resection, also known as Vertical Sleeve Gastrectomy (VSG), is an effective alternative for patients who may not be eligible for LAP-BAND® System surgery or other gastric bypass procedures. Dr. Kim has been performing this procedure with increasing regularity, and says this adventure with Mr. Newton has provided a well-rounded view of the procedure to further enhance his patients' goals and expectations as they begin their weight loss journeys.
As the success of the partnership between Mr. Newton and Dr. Kim continues to support bariatric surgery in Dallas, Dr. Kim says the inside-look provided through Mr. Newton's Facebook posts help his patients realize successful weight loss incorporates significant lifestyle and dietary changes. In addition to the necessary lifestyles changes, Dr. Kim says regular monitoring of each patient's progress is essential to ensuring their weight loss is safe and long-lasting. He believes Mr. Newton's journey and the online community built around his practice enhances the effectiveness of weight loss surgery as a part of his comprehensive aftercare program, and helps his patients realize the actual procedure is only the first step in the process.
In some ways similar to gastric bypass in Dallas, the vertical sleeve gastrectomy Mr. Newton received at the Live Life Again Center for Bariatric Surgery allows for comparable degrees of weight loss. And while the vertical gastric sleeve procedure has inherent risks, as any weight loss surgery does, Dr. Kim says the continued success and increasing popularity of the LAP-BAND® System and gastric sleeve procedures are due to the effectiveness and improved safety of both surgeries.
About Dr. David Kim
David D. Kim, M. D. received his medical degree at the College of Medicine at Northeastern Ohio Universities. He completed his residency in General Surgery at Case Western Reserve University School of Medicine, and also served as Chief Resident there. Dr. Kim received a Fellowship for Laparoscopic Gastric Bypass at the Medical College of Virginia, and another for Peripheral Vascular Surgery at Park Medical Center. He is a member of the American Society of General Surgeons, Southeastern Surgical Congress, the Tarrant County Medical Society, and is a member and fellow of the American Society for Bariatric Surgery and the American College of Surgeons.
Dr. David D. Kim has two office locations: Live Life Again Center for Bariatric Surgery is located at 35 Verdana Lane Ste. 100 Colleyville, TX 76034; he can be reached at http://www.mylapbanddallas.com/ or http://www.drdkim.net/index.html or 214-614-7036 for his Dallas patients and 817-717-7447 for his Fort Worth patients.
# # #