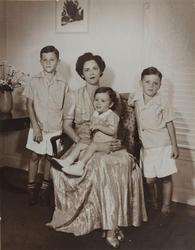 Dr. Robert Hazelwood, M.D. (Psychiatry) declares, Mama Moves In provides a preview of what all elder care providers will encounter. The reader gets a vicarious experience of what elder care in your home is all about.
Austin, TX (PRWEB) July 21, 2010
Health care professionals agree that Mama Moves In and the ResearchPro on-line research tools provide what caregivers moving elderly parents and relatives into their homes will need as elder care providers. Irene Broussard, R.N., CRNA, David Reed Hall, LCSW and Robert Hazelwood, M.D. (psychiatry) recommend Mama Moves In and the ResearchPro tools as being, "the right tools in the right place at the right time," "giving you organized access to the information you need to make decisions about elder care in your home and finding elder care products," and, "both information and products are organized to make access obvious and easy," respectively.
Irene Broussard has been a nurse for 38 years in Houston and Austin including the last 20 years as a Nurse Anesthetist in the operating room. David Reed Hall has worked in both the private and public sectors in the Austin area as a social worker professionally licensed by the State of Texas for over 20 years. And Robert Hazelwood has practiced psychiatry for over 30 years in both Houston and Austin. As health care professionals for over 88 years, collectively, they give their strong endorsements for Mama Moves In and the ResearchPro tools.
The InformationResearchPro database runs on the MamaMovesIn website which draws its information from organized, database-controlled and internet-resourced research programs. So, the information is always current.
There are hundreds of elder care "Product Categories" organized by category and sub-category in the ProductResearchPro database. The products database is the result of years of research and organization and it is easy to use.
# # #