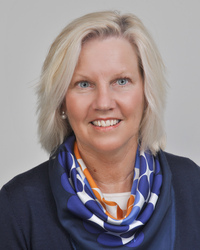 Inga has broad experience in the SAP ecosystem and the IT outsourcing business model. She brings a wealth of management, technology, business development and SAP experience to our team, said George Surface, VP, of SAP Services.
Southfield, MI and San Jose, CA (Vocus) July 20, 2010
Secure-24, certified SAP Hosting Partner and 2010 SAP Pinnacle Award Finalist for IT Outsourcing Partner of the Year, announced the addition of IT outsourcing veteran Inga Bredehoeft to its team focused on SAP Hosting and Enterprise Application Services in the Western Region.
Ms. Bredehoeft joins Secure-24 as the SAP Sales Director based in Silicon Valley. Working with SAP and its partners, she will be responsible for identifying new opportunities and establishing client and partner relationships to support Secure-24's business in the region.
"Inga has broad experience in the SAP ecosystem and the IT outsourcing business model. She has firsthand experience helping customers achieve business results by utilizing optimized technology solutions, which help customers lower their total cost of ownership by applying innovative solutions to business challenges. She brings a wealth of management, technology business development and SAP experience to our team," said George Surface, Vice President SAP Services, "She's a definite asset as we continue to expand our SAP footprint."
Secure-24's SAP Basis team and technology offerings are focused as a single-source support for the entire SAP solution lifecycle - from enterprise architecture through application development and integration, to application management and infrastructure support. Highlighting the company's ongoing commitment to customer satisfaction, Secure-24 was recognized by SAP as a finalist for the prestigious 2010 Pinnacle Award for IT Outsourcing Partner of the Year, the only US based partner to receive the nomination.
A graduate of UCLA, Ms. Bredehoeft has over 20 years experience in technology marketing, sale and business development. Ms. Bredehoeft has managed and delivered outsourced solutions for Fortune 50 and mid-market clients, with a particular focus on telecommunications, software and high tech companies. She brings her depth of knowledge and years of experience to assist clients in northern and southern California, Arizona, Colorado, Nevada, Oregon, Washington and Hawaii.
"Secure-24 is an innovator. As a member of the Secure-24 SAP Solutions team, I'm excited to bring the capabilities and services of this very solid organization to SAP customers here in the West," said Ms. Bredehoeft.
As a Certified SAP Hosting Partner, Secure-24 manages complex SAP landscapes for firms that operate globally, leveraging SAS70 Type II certified data centers combined with a long-established history of ITIL and COBIT IT management processes to help customers meet compliance mandates, mitigate risk, and lower their TCO. Customers using SAP solutions - from earliest versions to leading current initiatives - benefit from the comprehensive experience of Secure-24's core SAP technology team to gain significant efficiencies and enhanced ROI.
About Secure-24, Inc. (http://www.secure-24.com)
Based in Southfield, Michigan, Secure-24 is a premier provider of managed hosting, disaster recovery, and managed services for the mission-critical IT applications of industry and government. An SAP hosting partner, Secure-24 has a broad SAP Basis Competency Center and an executive management team experienced in hosting SAP solutions. Secure-24 provides critical application hosting and managed services to organizations that need to meet rigorous compliance metrics (i.e., SAS 70, HIPAA, Sarbanes-Oxley, GLB, ISO, FFIEC.) A deep knowledge of enterprise resource planning and complex architectures combined with state-of-the-art data centers and infrastructure allow Secure-24 to deliver solutions that are highly available and scalable to meet evolving business needs.
SAP, SAPPHIRE and all SAP logos are trademarks or registered trademarks of SAP AG in Germany and in several other countries. All other product and service names mentioned are the trademarks of their respective companies.
###