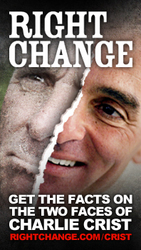 RightChange.com believes this may be the first episodic animated political series in campaign history
Washington, DC (PRWEB) July 20, 2010
The organization RightChange.com, Inc., today released a new website "The Two Faces of Charlie Crist," http://www.rightchange.com/crist that features a new animated video series "Crist In Wonderland."
The site debuts the first of 10 currently planned episodes that will be released weekly depicting Charlie Crist as parody characters Tweedle Dee and Tweedle Dum, illustrating the multiple positions Crist has taken on serious issues facing Florida and the Nation in his independent bid for the US Senate. The first episode focuses on his switch to running as an independent candidate after recognizing he would lose the Republican primary to Marco Rubio. RightChange.com believes this may be the first episodic animated political series is campaign history.
The site also features a detailed time-line of Crist's numerous positions, so that voters can easily see that he is willing to take any position necessary to win the election, including his various positions on off-shore drilling.
The new animated series can be viewed at http://www.rightchange.com/crist as well as on facebook:
RightChange on FaceBook: http://www.facebook.com/rightchange
About RightChange.com, Inc.
Founded in August 2008, RightChange.com, Inc. is committed to supporting policies and candidates dedicated to fiscal responsibility and a strong national security for the United States, while upholding the principles of freedom, competitiveness and entrepreneurial spirit of the American people.
RightChange.com, Inc. will continue to focus on battleground states and races in the 2010 midterm elections and to engage the America people on key policy issues facing the entire country.
Press Contact
press(at)rightchange(dot)com
###