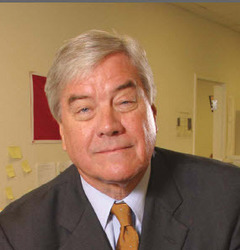 "Every day we can read about people stealing vital records or someone gaining access to personal financial information or compromising supposedly secure information files."
Beltsville, MD (PRWEB) July 20, 2010
Business Solutions Magazine, a leading trade publication that focuses on ECM VARs and their success, has featured Dick Aschman, CEO, of DataBank in their July issue. The featured ECM article focuses on the tremendous competitive advantage the company has achieved through industry leading initiatives that address customer concerns for security, protection of confidential information, and procedures that protect against identity theft.
DataBank was one of the first document conversion service companies in the country to earn SAS 70 Type II and PCI DSS certifications that cover all aspects of converting paper to digital images. Certification auditors annually inspect operational tasks from the time DataBank picks up documents from a client location until they deliver secure and encrypted data and images that help customers achieve business process efficiencies.
Aschman is quoted in Gennifer Biggs' article, noting: "Every day we can read about people stealing vital records or someone gaining access to personal financial information or compromising supposedly secure information files. The damage to that company's brand alone can be tremendous. Security and compliance standards are more visible, and the management of confidential information is considerably more regulated."
Biggs wrote; "Once DataBank made the decision to attack certification, it also set its sights on the higher level of security certification available within SAS 70. Essentially, SAS 70 Type I means you have documented a process, and a SAS 70 Type II means you are following those documented processes, which have been confirmed by an audit. To achieve that entailed examining management policies, people, and physical and data security; a daunting task. To achieve its security classification at that level, the solutions provider utilizes a high-speed security WAN that includes a Layer 3 virtual private network, firewalls, data center collocation, a hosted Internet Protocol (IP) Centrex (voice service) solution, and management services."
Aschman concludes; "We continually enhance our policies, procedures, and security to stay abreast of new regulations and to improve protection of our clients' vital information assets. The combination of delivering secure, outsourced services, web-hosted SaaS solutions, and easy-to-implement document management solutions will drive most of the growth in our industry."
About DataBank
DataBank, http://www.databankimx.com has rapidly become an industry leader in document management and document conversion services with seven state-of-the-art production centers nationwide. DataBank is a national full service provider of document management solutions and document scanning services. They provide a comprehensive range of imaging services, document management software, web-based document hosting, and end-to-end vertical industry Enterprise Content Management (ECM) and department-level solutions for companies and organizations that want to improve their document imaging and information management processes. As an Industry leader, DataBank understands its customers' business environments and is delivering value-added application solutions and services to thousands of clients throughout the United States.
DataBank enjoys industry partnerships with document management and technology organizations from around the world, and has recently received national recognitions for its performance and quality by Kodak, Hyland and Digitech Systems. DataBank also understands the importance of protecting vital information belonging to its clients with SAS 70 Type II and PCI/DSS certifications.
The company assists their clients in complying with HIPAA, FERPA, and other government and internal regulations and compliance requirements.
# # #