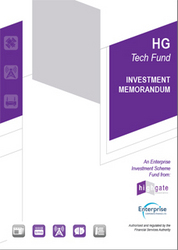 An EIS Fund offers an excellent opportunity for investors and entrepreneurs to shelter capital gains over a period of time. With the recent increase in CGT to 28% for higher tax payers there is a greater than ever need to ensure tax efficient investments.
London (PRWeb UK) July 21, 2010
Highgate Associates and Enterprise Corporate Finance who have launched an EIS fund for UK based High Tech businesses are seeing huge interest from investors and entrepreneurs looking to defer capital gains tax commitments through the EIS investment vehicle. EIS funds are a very tax efficient mechanism for investing and with the latest government budget increasing CGT to 28% for higher tax payers many investors are contacting HG Tech Fund Management to better understand the opportunity offered.
Within the EIS Scheme up to three year old capital gains can be rolled into qualifying EIS companies and provided that the shares are held for a minimum of three years capital gains tax is only payable on the proceeds at the time of divesting. Investing in an EIS fund can be a longer-term shelter allowing flexible disposal of shares within annual capital gains allowances over time or can be continually rolled over until moved into a trust fund or within an inheritance fund. This benefit is in addition to the income tax relief provided on all money invested up to £500,000 in any one year.
Independent Tax Efficient Funds Market Analyst and author of the Tax Efficient Review (http://www.taxefficientreview.com), Martin Churchill says "an EIS Fund offers an excellent opportunity for investors and entrepreneurs to shelter capital gains over a period of time. With the recent increase in CGT to 28% for higher tax payers there is a greater than ever need to ensure ongoing tax efficient investments."
The HG Tech Fund proposition uniquely focuses on the UK High Tech industry, specifically software businesses with a permanent base in the UK. This is a sector that attracts huge entrepreneurial talent and offers valuable intangible assets in the form of IP and patents. It is the underlying value of these that the HG Tech Fund management team are able to uncover. The expertise within the team is then used to nurture these early stage businesses through to profitability and successful longer-term exit strategies. All the fund managers within HG Tech are highly experienced IT sector veterans who have started, built and sold multiple IT businesses globally throughout their careers.
Andrew Muir, Co-Chairman, HG Tech Fund says "we are seeing a lot of interest in investing in the HG Tech Fund from sophisticated investors who are looking to mitigate their capital gains over time. This fund is an ideal opportunity to shelter capital gains whilst investing in some of the best emerging software companies in the UK. "
The HG Tech Fund is an EIS accredited fund that is open to sophisticated investors with £10,000 or more to invest in a portfolio of early stage high technology companies. This is a medium to long-term investment opportunity with a 3-7 year exit strategy although it will be possible to continue to roll profits into future funds if needed.
For further information please contact Andrew Muir on 07785 393583 or visit http://www.hgtechfund.com
Highgate Associates
Highgate Associates was established in 2001 by Andrew Muir and Ken Nelson, each having over 25+ successful years dedicated to starting and building technology companies globally.
Andrew Muir and Ken Nelson co-chair the Fund Investment Committee and work closely with Enterprise in allocating EIS funds to the investee companies and managing the Fund investments. Highgate's senior Financial Director, Henk Nieuwenhuizen, oversees all investments made by the Fund to ensure proper accounting and disclosures.
Highgate deploys a very focused hands-on approach to the HG Tech Fund EIS investments, taking an active role in monitoring the performance of management teams within the investee companies in the form of reviews with the Investment Committee members as well as attending AGM and other general meetings to hear first hand from the management as to the progress of the company. Of particular interest is close scrutiny of the exit strategy and opportunities for returns to Investors that may arise during the company's investment period. Highgate will take board positions and financial roles in the investee companies, as necessary. http://www.highgateassociates.com
Enterprise Corporate Finance Limited
Enterprise Corporate Finance Limited is an investment adviser specialising in and predominantly working with unquoted investments. Its principal, Susan Phillips, has a background in investment management and for 17 years has specialised in financing, advising and mentoring unquoted companies across a wide range of industries. Susan is a recognised leader in the EIS community and acts as Director General of the EIS Association. http://www.enterprisecf.com
Authorised and Regulated by the Financial Services Authority
Enterprise Corporate Finance Limited is authorised and regulated by the Financial Services Authority, 25 The North Colonnade, Canary Wharf, London E14 5HS. This information is communicated on the basis that participants in investments managed or advised by Enterprise Corporate Finance Limited should be sufficiently expert to understand the risks involved and understand that they may not be covered by the rules and regulations made for the protection of investors in the UK. Past performance may not necessarily be repeated and is no guarantee or projection of future results. This is not an invitation to invest. Any investment must be made on the application form and on the terms set out in the Investment Memorandum dated March 2010. Your attention is drawn to the risk factors on page 21. Unquoted investments can be difficult to sell and it can be difficult to obtain accurate information as to their worth or risk profile. This communication is provided for informational purposes only and should not be construed as an invitation or offer to buy or sell any investments. No recommendation is made, positive or otherwise, regarding individual investments. Any decision to invest should be made only on the basis of the relevant documentation for each investment. No contracts may be concluded on behalf of Enterprise Corporate Finance Limited by means of email communications. This information in this document and any attachments is confidential and may be legally privileged. It is intended only for the individual or entity named.
###