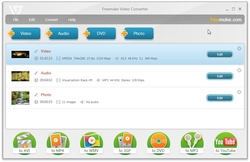 ... good software must be free!
Los Angeles, CA (PRWEB) July 21, 2010
Freemake Video Converter enables fast and easy conversion to AVI, WMV, MP4, 3GP, DVD, MP3. The converter prepares videos to be viewed on devices: iPod, iPhone, iPad, PSP, smartphones, mobiles, and PC.
The range of input formats is vast: the program is capable of importing videos from DVD, mobiles, Internet, cams, PC. It is also possible to combine photos with background music or audio with visuals to create videos.
With Freemake Video Converter, it is easy to burn up to 20 hours of video to a standard DVD disc and apply different DVD menu styles. The converter tells if it is possible to write a high-quality DVD judging by the duration of the input files, not by their size.
Freemake Video Converter offers such editing options as cutting unwanted video parts, joining several videos into one file, rotating, and flipping.
It also makes possible to upload files to YouTube directly, without using the original YouTube interface. These can be converted videos, music with visualization, photos or even DVDs. The program will cut videos into 10-minute parts inserting them into one YouTube playlist, and save the account information.
In short, Freemake Video Converter is a new free program that can bring forward the functionality comparable to that of paid ones. Absolutely free downloading and upgrading, ergonomic and engaging interface, high speed of conversion allow users to fulfil tasks of different complexity, without time and money spent in vain.
About Freemake
Freemake is a new freeware developer. Industry best practices, cutting-edge technologies and advanced programming tools are the drivers behind Freemake software. The company's motto "… good software must be free" reflects its strategy in a nutshell. With this exciting array of Freemake freeware, everyone can enjoy the maximum benefits of multimedia.
###