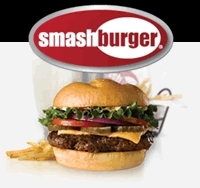 "I am confident that Smashburger will become Kalamazoo's favorite place for burgers."
Kalamazoo, MI (PRWEB) July 21, 2010
Smashburger, a fast-casual "better burger" restaurant will open its first Kalamazoo area location on Wednesday, August 11, 2010. The Denver-based restaurant will open at 4315 West Main St., just East of Drake Road and bring juicy burgers made-to-order with 100-percent Certified Angus Beef, an array of Smashsides and delicious Häagan Dazs shakes to local residents. This is the first of six Michigan Smashburgers slated to open over the next three years.
Kalamazoo's Smashburger will feature a regional menu created with regional flavors and tastes in mind. The Kalamazoo menu includes:

Michigan Olive Smashburger with chopped green olives, American cheese, lettuce, tomato and mayo on an egg bun
Cherry BBQ, Bacon & Cheese Smashburger or Smashchicken sandwhich that includes Michigan cherry bbq sauce, applewood smoked bacon, Haystack Onions and cheddar cheese on an egg bun
Cherry BBQ Chicken Ranch Smashsalad featuring romaine, baby spinach and arugula lettuce topped with strips of crispy or grilled chicken, applewood smoked bacon, diced tomatoes, Haystack Onions, cheddar cheese, with buttermilk ranch dressing and Michigan cherry bbq sauce.
Known for the cooking method used to create the perfect burger, Smashburgers start at $4.29 with a one-fourth, one-third or half-pound ball of 100-percent Certified Angus Beef fresh—not frozen—smashed on a flat grill to sear in superior juicy flavor. To further the "better burger" experience, Smashburgers are served on a toasted artisan bun and topped with a selection of flavorful cheeses, the freshest produce, and top-quality condiments.
Smashburger is known for its savory burgers, but the restaurant also serves up delicious crispy or grilled Smashchicken sandwiches, Smashdogs, and Smashsalads, with sides like veggie frites and rosemary and garlic–seasoned Smashfries. Burger lovers can pair their meals with Häagen-Dazs shakes, Vernors Ginger Ale Floats, and root-beer floats.
"We are excited to work with Terry and Jean Henderson of SmashVentures, LLC to bring Smashburger to Kalamazoo in my home state of Michigan," says Smashburger Founder Tom Ryan. "I am confident that Smashburger will become Kalamazoo's favorite place for burgers."
"I have tried burgers all over the country and Smashburger is, by far, the best burger I have ever tasted," says Terry Henderson, CEO of SmashVentures, LLC. "We are excited to be opening the first Smashburger in the state of Michigan and are sure it will soon become Kalamazoo's favorite burger."
About Smashburger
Denver-based Smashburger, the country's fastest growing "better burger" restaurant company, is designed to be every city's favorite burger place. It was named a 2009 Hot Concepts! award winner by Nation's Restaurant News. Developed and owned by private equity and concept-development firm Consumer Capital Partners (CCP), Smashburger operates and develops corporate, joint venture and franchise stores across the country. Smashburger currently has more than 70 stores in 15 states and has sold franchise and joint venture agreements that will bring the total to more than 350 locations over the next five years. To learn more, visit http://www.smashburger.com.
About Consumer Capital Partners
Denver-based Consumer Capital Partners (CCP) is an innovative private investment and concept development firm focused on multi-unit retail businesses, primarily in the restaurant, food, and leisure industries. CCP has deep experience in the fields of private equity, brand, concept and product development, and strategic consulting. To learn more about CCP, please visit http://www.consumercp.com.
About SmashVentures, LLC
Kalamazoo-based SmashVentures, LLC is owned by Terry and Jean Henderson. The Hendersons are accomplished restaurateurs who are committed to providing Kalamazoo's favorite burger. They have owned and operated several successful multi-unit dining concepts in Western Michigan. In addition to Smashburger, the Hendersons currently operate Fire Bowl Café and The Wine Loft in Kalamazoo. Additional Smashburger locations are planned to open in the greater Kalamazoo area, Battle Creek and Lansing.
###