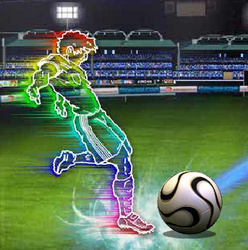 Games.co.za is pleased to release the first free online World Cup football games, and is still on the lookout for more.
(PRWEB) July 21, 2010
With all the football games available for free on the internet, it's a shame that the best free online FIFA World Cup games only appear after most of the excitement is already over. However, the first free 2010 World Cup games are beginning to appear online, and have now been made available at Games.co.za, the largest South African online games host.

If you'd rather have seen another outcome to the finals, you can replay the 2010 event match by match with your country of choice in free games like Soccer World Cup 2010 and World Soccer Champion. In both games you get to select your team, play through the group stage, and lead your team to the finals. World Soccer Champion is especially well-made, with better graphics, a more accurate depiction of team colours, and controls which allow your players to make more realistic moves and goal shots. You can play both of these games in your browser without downloading any software.
Another subject for World Cup games are of course the memorable moments where a player does something outrageous, dangerously miscalculating a kick at the ball, or blatantly planting one on an opponent. Nobody this year quite surpassed the infamous headbutt of Zidane, which led to parody videos, parody games and even parody TV adds appearing around the world. Yet the 2010 World Cup seemed to be plagued with all kinds of kung fu antics that hardly belong on a football pitch. Games.co.za, South Africa's largest free online games host, is eagerly awaiting the first parody games to appear.
Who will be the first to get their own mortal combat parody game this time? Will it be Sani Kaita or Nigel de Jong? Or maybe Uruguay's Martín Cáceres and his kung fu bicycle-kick? "We encourage our players to get more involved with the site. We've already been on the lookout for World Cup parody games," says Games.co.za's Patrick Smith, "and if anyone has managed to find a good one we've overlooked, please let us know ."
###