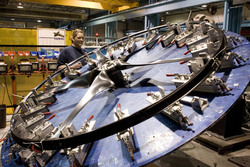 They are a tremendous example of how West Michigan manufacturers are successfully translating technical expertise into new market opportunities.
Grand Rapids, MI (Vocus) July 20, 2010
What began with a commitment to sustainable manufacturing has blossomed into new investment and jobs for West Michigan, thanks to Cascade Engineering. The company announced today that it is expanding its three-year-old renewable energy division, Cascade Renewable Energy (CRE) and plans to invest $2.8 million and create up to 24 jobs over the next year.
CRE designs, develops, manufactures, and sells distributed renewable energy systems throughout the United States and Canada. Its first product to market was the SWIFT Wind Turbine that provides renewable energy for residential, community and commercial use. CRE is the manufacturer of the plastic blade assembly for all SWIFT Wind Turbine installed worldwide and the exclusive distributor and marketer of SWIFT in the United States and Canada. More recently, CRE has added a line of solar photovoltaic products to it portfolio. By the end of the year, CRE expects to have installed over 500 kW of solar PV in Michigan. Finally, CRE has developed a strategic relationship with Lowe's, the home improvement retailer, to bring an assortment of CRE's renewable energy and energy efficiency products to customers in select Lowe's stores in the United States and Canada.
Cascade Engineering had considered its facilities in North Carolina and Ohio, or a location in Texas for the expansion. To retain the investment in West Michigan, The Right Place collaborated with the Michigan Economic Development Corp. and Cascade Township to develop an incentive and assistance package that included Michigan Economic Growth Authority (MEGA) tax credits as well as local support. Located at 3400 Innovation Ct. SE in Grand Rapids, Cascade Engineering employs 414 in West Michigan and will add up to 183 jobs over the next five years as a result of the expansion. A longstanding customer of The Right Place, the company recently joined The West Michigan Wind Manufacturers Network, a collaborative convened by The Right Place to provide a forum for area manufacturers currently serving, or joining the wind energy supply chain to share market knowledge and best practices.
"The majority of our work is in assisting the growth of West Michigan companies, and we have been pleased to support Cascade Engineering's development," said Right Place Vice President Sue Jackson, noting The Right Place has been working with Cascade on alternative energy and supply chain development issues. "They are a tremendous example of how West Michigan manufacturers are successfully translating technical expertise into new market opportunities."
"Cascade Engineering is committed to developing a portfolio of sustainable products and services through our entire family of companies," noted Cascade Chairman and Founder Fred Keller. "We appreciate the support and partnership of The Right Place, the state of Michigan and Cascade Township in furthering our business growth and expansion in West Michigan. "
With this latest economic development projects, The Right Place, working with its local and state partners, has generated $100,000,000 million in capital investment and assisted in the retention and creation of over 561 jobs in West Michigan in 2010.
About The Right Place, Inc.
The Right Place, Inc. is a regional non-profit economic development organization founded in 1985 and supported through investments from the private and public sector. Its mission is to promote economic growth in the areas of quality employment, productivity and technology in West Michigan by developing jobs through leading business retention, expansion and attraction efforts. For more information visit: http://www.rightplace.org
About Cascade Engineering
Cascade Engineering is a multi-business manufacturer and marketer supporting multiple brands serving the automotive, commercial truck & bus, solid waste & recycling, furniture, material handling and renewable energy industries. The company's broad portfolio of offerings includes manufacturing products for OEMs, marketing branded products, and providing consulting services. The common thread weaving its businesses together is an expertise in large part injection molding. The Cascade Engineering Family of Companies employs approximately 1,000 people worldwide. For more information, visit the company's website at http://www.cascadeng.com.
# # #