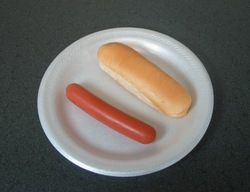 CL&D Digital can now provide the packaging for food model products – or take on the project from the beginning and actually assist in the production of the food models.
Hartland, WI (PRWEB) July 21, 2010
CL&D Digital, a short-run, quick-delivery, new consumer goods products package printing solutions expert that provides sales samples, prototypes, and comps announces the addition of SLAs (Stereolithography) and other types of rigid material rapid prototyping as well as "food modeling" to its already extensive solutions line-up. Both solutions are targeted for CPG companies looking for innovative ways to meet their new product launch challenges.
Food modeling or props, long used in the movie and advertising industry, are essentially artificial or "fake foods" made from various types of plastic designed to take the place of real food. Food props hold up for long periods of time under the heat of lighting on movie sets and photo shoots, eliminating the time and waste of using real food.
"CL&D Digital can now provide the packaging for food model products – or take on the project from the beginning and actually assist in the production of the food models," explains Nelson Erdman, a sales manager at CL&D. "CPG companies can choose from an entire range of quality in food models for their new products, depending on the purpose – everything from a 'Chevy to a Cadillac.'"
Food models are used for photo shoots, trade shows, and even sales meetings – and the better the quality of the food model, the more expensive the cost. "Sales reps can take a box of food model hot dogs, transport them in their car, and drop them off at retailers to show them the real-life looking product in its packaging," Erdman says, "they don't have to worry about refrigeration or a compromised product appearance." In addition to different quality levels, food models can be created to assimilate different product states, like a hot dog right off the grill, in a bun, or several "squished" together in a block like an actual package of hot dogs would appear.
"However you can imagine your product and packaging to look, we can make it happen," Erdman concludes. CL&D Digital has also produced giant oversized food models for trade shows and company meetings.
CL&D Digital is also leveraging several new manufacturing technologies for modeling and prototyping of your bottles and containers, including Stereolithography (SLA), which utilizes hollow clear plastic. "We print labeling that wraps around the bottle to look like a complete package that's been commercialized and ready to go for photo shoot or other product pre-launch purpose," Erdman says, though typically all the nutritional facts and small-type facts get stripped off the labels for a cleaner presentation.
About CL&D Digital and digital package printing
Bob Scherer, Vice President of CL&D Digital, is a respected conference speaker and contributor to industry trade journals on the subject of digital technology and digital package printing. In 1995 along with two partners, Scherer established CL&D Digital as one of the first packaging printers to use Hewlett-Packard (HP)/Indigo digital printing technology. The company's customers – including many Fortune 500 consumer products manufacturers – count on CL&D Digital's full production run quality for their package and label sales samples, prototypes, and comps.
Digital printing can help a manufacturer avoid the high costs and long lead times associated with conventional printing. Depending on the quantity and number of colors, digital printing can cost up to half as much as conventional printing – in part because digital printing is achieved direct from the computer without plating. Digital printing can allow for less waste and storage, too, by printing only the quantity needed. It can also provide the flexibility of showing different versions of the same packaging at minimal cost, which offers the capability of moving a product into niche markets once deemed too cost prohibitive.
In addition to digital printing and packaging dry goods including food, candy, coffee, sundries, and personal care items since 1995, CL&D Digital has the capability of overseeing the packaging of refrigerated foods in a constant 38 degree-temperature warehouse, or frozen foods in zero degree-temperature warehouse, both within over 600,000 cubic feet of state-of-the-art, ASI-certified space. CL&D Digital is certified by The American Sanitation Institute (ASI) for food contact packaging and non-food contact packaging.
Members of the media can contact Bob Scherer at 262.569.6732 or 262.391.3984. CL&D Digital can be found on the Internet at http://www.clddigital.com.
# # #