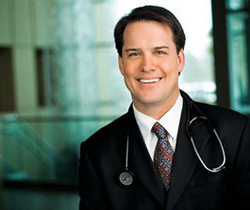 This gathering of subspeciality cancer physicians from various institutions across the United States is the first of its kind in the nation.
Omaha, NE (PRWEB) July 22, 2010
Now, cancer patients have the ability to seek second opinion consults from select expert cancer physicians with a web-based system at CancerOpinions.com. This powerful online tool provides patients with oncologists' recommendations for treatment and care management in a timely manner based on medical records submitted by the cancer patient.
"Never before has this kind of access to leading cancer physicians been available. Now all cancer patients can receive this cost-efficient option, not just those who have the ability and finances to travel beyond where they live," said Dr. Luke Nordquist, Founder and CEO of CancerOpinions.com.
The concept of giving cancer patients from anywhere in the world Internet access to a select team of nationally recognized and highly specialized U.S. cancer physicians originated in 2009 by Luke Nordquist, MD, FACP, a cancer physician practicing in Omaha, NE. He approached businessman Mike Simmonds, a cancer patient himself since 2002, about the concept. Mike had also experienced the time demands and expense of travel, along with difficulties in finding a true specialist in his type of cancer.
These two individuals came together to form the Nordquist Simmonds Medical Network. Since then, they have researched, developed and established CancerOpinions.com, a Web-based system created for cancer patients and their physicians.
Assembled at CancerOpinions.com are select expert cancer physicians from across the United States who have trained at some of the most prestigious cancer centers, have active clinical practices, are involved with the latest cancer research and are active in committees designing guidelines for cancer treatments. "This gathering of subspeciality cancer physicians from various institutions across the United States is the first of its kind in the nation," noted Dr. Nordquist.
A second opinion consult from CancerOpinions.com will provide an expert perspective on the patient's cancer and can ultimately provide peace of mind. The second opinion consult will include:

A concise summary of the patient's cancer history including diagnosis, staging, treatments and responses.
An easy-to-understand educational background regarding cancer in general and of the specific type of cancer, so the cancer patient has the necessary knowledge to understand their cancer when making important treatment decisions.
A thorough outline of all the standard treatments and experimental treatment options available to them and their referring physician, including how the patient's treatments may change in the future as their cancer situation changes.
A concise and personal treatment recommendation for the cancer patient from a CancerOpinions.com expert. This recommendation will allow reassurance to the cancer patient of receiving the most appropriate and effective treatment for their cancer and provide a vision of what they may experience in the future.
For more information about CancerOpinions.com or the Nordquist Simmonds Medical Network, visit our website at CancerOpinions.com or contact our offices at (402) 963-4112.
###