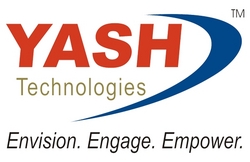 East Moline, IL (PRWEB) July 21, 2010
East Moline, IL PRWEB) July 21, 2010 -- YASH Technologies™, a leading technology services and outsourcing partner for global companies, will host an exclusive and complimentary webinar to address the critical factors in an outsourced application management services partnership. This webinar is co-hosted by the Americas' SAP Users' Group (ASUG). The webinar, entitled "Improve your Business Game with Application Management Services for SAP® Solutions," will be held on Tuesday, August 3, for 60 minutes at 12:00 p.m. EDT and will feature the following:

A highlight of key practices to utilize when working with a partner for application management
An outline of key metrics and KPIs that an organization should look for across various stages of their implementation and evolution of application management services
Two customer examples from leading global companies showing how to avoid penalties and to properly tee up the relationship
Attendees of this webinar will be entered to win a state-of-the art Callaway Diablo Driver, and all registrants will be entered to win YASH's PGA Championship VIP Package giveaway. To register for the webinar, visit http://www.yash.com/news-events/webinars/2010/exclusive-sap-ams-webinar.php. Seating is limited for this exclusive webinar.
For contest details and a chance to win a VIP Package at the renowned PGA Championship in Kohler, Wisconsin, Aug. 13 and 14, please visit http://www.yash.com/pga.
The PGA and ASUG are not affiliated with YASH Technologies or this contest.
About YASH Technologies
YASH Technologies focuses on customer success. As a leading technology services and outsourcing partner for medium and large global customers, we leverage technology and our flexible delivery models to drive performance and business value throughout a customer's enterprise. YASH's comprehensive service approach incorporates a holistic view of our customers that extends beyond delivery. This approach integrates enterprise solutions and services, proprietary best practice offerings, strategic application and maintenance outsourcing, as well as consulting and integration services. YASH is a SEI CMMI (Level 3) and an ISO 9001:2000 certified company with U.S. and India headquarters and regional sales and development offices spread across three continents. YASH is also part of a select group of companies that are SAP-certified global providers of application management services. For more information, please visit http://www.yash.com or email info@yash.com.
About ASUG
The Americas' SAP Users' Group (ASUG®) is an independent organization that facilitates knowledge transfer among the community of SAP and SAP BusinessObjects customers by providing user-driven educational opportunities, professional networking and a forum that provides insight and influence to SAP. For more information, please visit: http://www.asug.com/ASUG/PressRoom.aspx.
SAP and all SAP logos are trademarks or registered trademarks of SAP AG in Germany and in several other countries.
All other product and service names mentioned are the trademarks of their respective companies.
###