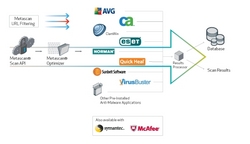 We use OPSWAT's Metascan Antivirus SDK to manage our virus protection software product… enabling us to scan the documents at point of entry. This ensures that we are not storing documents that may have viruses or trojans embedded.
San Francisco, CA (PRWEB) July 22, 2010
OPSWAT, Inc., a leading provider of tools that power security solutions, today announced the release of a major update to the Metascan multiple antivirus SDK, an advanced engine for launching antimalware scan requests and obtaining scan results from multiple embedded antivirus engines such as AVG, CA, ESET, Norman, Quick Heal, Sunbelt, VirusBuster and ClamWin.
Available as an Ultra package, Lite package, Core package or special edition package that integrates the Sophos, McAfee and/or Symantec scan engines, Metascan enables IT professionals and software engineers to deploy multi-scanning solutions, allowing users to effectively scan content with several antivirus engines simultaneously.
The Metascan engine and SDK cuts deployment time and expense by providing a single interface to manage all embedded antivirus engines, presently numbering 8 in the Ultra package. The application can extract many files and file archives (including ISO, ZIP, MSI, etc), and detect over 400 file types including PDF, DOC and EXE formats.
With this adaptable SDK software engineers can integrate virus scanning to proprietary solutions including:

Secure file transfer for any host that requires file either upload or download. For example any web site that accepts documents and requires protection against embedded threats.
Document security management, Metascan enables users to scan documents for macro threats.
Version 3.0 thoroughly upgrades the application's architecture, radically increasing resiliency and scalability. In addition to engine performance enhancements, each optimized engine and component now runs in an isolated state-localizing the impact of any malfunction. If any single engine experiences a failure, the remaining engines will continue the scanning process undisturbed.
It also adds a significant number of other features and enhancements. Including:
Multiple operating system support: Linux and Mac can use Metascan services installed on a separate server through Metascan Remote Connector.
Improved watchdog monitor: a new auto-recovery feature enhances data protection in the event that one component fails
Improved support for customers looking to use Metascan Core to manage their own licensed antivirus engines: Metascan includes support for managing McAfee, Symantec, Avira, Kaspersky, Sophos, Trend Micro and many others.
Improved handling of encrypted archives
"No single antivirus application detects every threat every time. You can improve the detection capability of your scanning solution by using Metascan," said Toshit Antani, Director of Engineering, OPSWAT, Inc. "The improved architecture in this update provides a scalable foundation for future growth and demonstrates OPSWAT's commitment to continually transforming the product. We're excited to be able to provide security-conscious customers like financial and governmental institutions with a greatly improved server-level antivirus solution that delivers advanced file and content-filtering capabilities and the use of multiple scan engines."
"To allow for our customers to upload and attach their resume documents, we use OPSWAT's Metascan Antivirus SDK to manage our virus protection software product, McAfee VirusScan Enterprise; enabling us to scan the documents at point of entry with a high speed virtual RAM drive capability," said Philip Day, IT Manager, Commonwealth of Pennsylvania Workforce Development System. "This ensures that we are not storing documents that may have viruses or trojans embedded, and that our stored files match their indicated file types."
OPSWAT is a Microsoft Certified Partner, ISV/Software Solutions. For more information about Metascan, including a complete list of specifications, please visit the Metascan product page.
Users interested in trying a free demo of a Metascan implementation should visit http://www.filterbit.com where files up to 20 megabytes can be uploaded and subsequently scanned by 11 antivirus engines. This free, online virus scanner is able to complete the process in only seconds and provide file analysis information. Anyone interested in evaluating Metascan is encouraged to sign up and create an account at the Metascan user portal to request a free 30-day trial.
Information on setup, configuration and potential uses for Metascan can be found in the Metascan Support Forums.
About OPSWAT
Founded in 2002, OPSWAT provides software engineers and IT pros with development tools and data services to power manageability and security solutions. OPSWAT, Inc. created OESIS OK, an industry-wide certification program that verifies the interoperability of endpoint security applications with products from market-leading technology vendors. The free Am I OESIS OK? utility hosted at http://www.oesisok.com enables end users to assess the interoperability and quality level of their applications.
###