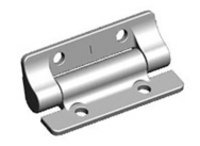 Easy upward adjustment without compromising holding force in the downward direction
Saint Paul, MN (PRWEB) July 29, 2010
Available starting in late 2010, the One-way family of positioning hinges feature asymmetric torque, which greatly reduces the force needed to move in one direction while maintaining it in the other. When used in applications like access panel covers, enclosure lids and wall-mounted monitor arms, One-way torque allows easy upward adjustment without compromising holding force in the downward direction. In many applications Reell one-way hinges can replace more costly gas strut solutions.
Designed and manufactured in America to the industry's most demanding torque specifications all One-way hinges feature ReellTorq®, the worlds best torque technology. ReellTorq's® patented clip mechanism provides consistent and long life torque. That means no adjustments in the factory or in the field! Customers get the right torque, the right fit, and the right function, all with ReellTorq's superior quality feel and reliability.
Reell Precision Manufacturing provides high-quality innovative solutions to transmit torque, control angular position and protect delicate components from excessive force. Combining the worlds most precisely controlled torque technology with the industry's most experienced engineering team guarantees a perfect product fit for your application. Reell's responsive global customer service and world class manufacturing ensures exceptionally easy ordering and on-time delivery.
For more information about Reell visit http://www.reell.com or contact a Reell sales representative at 651/484-2447 (menu option 2).
###