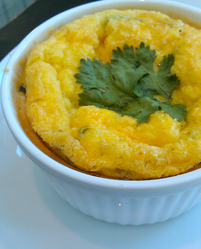 We wanted to create a flavorful and light breakfast dish that speaks to the summer state of mind.
Fort Collins, CO (Vocus) July 20, 2010
Harmony Valley Foods has just released its Harmony Valley Vegetarian Sausage Summer Quiche recipe. The recipe is printed in the company's newest blog post. "We wanted to create a flavorful and light breakfast dish that speaks to the summer state of mind," says Deb Lecy of Harmony Valley Foods.
Today we have for you a simple, yet underestimated breakfast sensation…….A Harmony Valley Quiche! Quiche can be a smidge overwhelming at times. I think for me, it's the crust that seems like a lot of work, especially in the morning. Solution….crust-less quiche. We made this quiche on a whim, we wanted to provide simple recipe for our Harmony Valley Breakfast Sausage. This fresh and light crust less quiche wows the taste buds without breaking a sweat.
We used fresh broccoli, and red peppers in our quiche, but really any veggies on hand will be just as delicious.
Harmony Valley Vegetarian Sausage Summer Quiche
Prep Time: 15 Min. Cook Time: 30 Min. Yields: 4 Personal Ramekins
Ingredients
2 cups low-fat cream
5 eggs, beaten
Salt and pepper
½ lb HV Sausage
2 tbsp green onions
½ cup broccoli crowns
¼ cup diced red peppers
½ tsp black pepper
½ tsp salt
1 tsp garlic
1 cup grated cheese
Directions
1. Beat the eggs with the cream add salt and pepper and mix until well incorporated.
2. In a small sauté pan, cook the sausage. Add the onions, broccoli, peppers, salt and pepper and garlic. Cook until the peppers are tender. Remove from heat and allow cooling before pouring into ramekins.
3. To assemble:
4. Line removable bottom pan with pastry dough. Place desired ingredients in the pan and pour the egg/cream mixture over the ingredients and fill to the very top.
5. Bake at 400 degrees for 30 to 25 minutes or until the top is golden and puffed up.
6. Take out of the oven and let sit for 5 minutes before serving. Slice and serve hot or cold.
For more information on the product please visit http://www.HarmonyValleyFoods.com or visit the company blog at http://www.harmonyvalleyfoods.com/blog. To request product samples and photographs please contact Andrea Ridder, 970-482-8172.
###