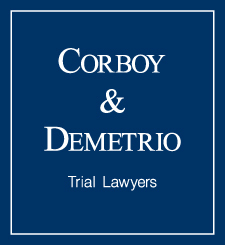 Chicago, IL (Vocus) July 21, 2010
Edward Hospital, Dr. Paul Goldberg and Naperville Radiologists, S.C., have agreed to pay a young woman $1.7 million for failing to diagnose and treat a tumor. Attorney David R. Barry, Jr., a medical malpractice lawyer at the Corboy & Demetrio law firm, represented the plaintiff.
In February, 2007, a CT scan was taken at Edward Hospital, in Naperville, Illinois, of a 40 year-old woman's abdominal area which showed an abnormality Dr. Goldberg, a radiologist, failed to comment on after reviewing the scan. The woman subsequently experienced weight loss and fatigue. Another CT scan taken in January, 2008, revealed a 16-centimeter GIST tumor that required a complete gastrectomy as well as removal of the spleen and portion of the colon. Prognosis for long term survival decreased as a result of delay in diagnosis and treatment.
Attorney Barry commented:
Patients rely on radiologists to at least mention potential anomalies in their reports. The primary care doctors follow up on those comments. An earlier diagnosis would have likely resulted in a complete cure. Instead, this young woman and her family live with the uncertainty and her life is forever changed.
Paul Goldberg, M.D., and Naperville Radiologists, S.C., paid $1,600,000.00 and Edward Hospital paid $100,000.00.
Tariq v. Paul Goldberg, M.D., Naperville Radiologists, S.C. and Edward Hospital, Case Number 09 L 156, Circuit Court of DuPage County, Illinois.
To consult with Attorney Barry or any other lawyer at our Chicago medical malpractice law firm, call 312.346.3191. We are available 24 hours a day, 7 days a week.
Further firm information can be found on our Corboy & Demetrio Wikipedia page and the Corboy and Demetrio HG law firm profile.
About Corboy & Demetrio
Corboy & Demetrio is one of the nation's premier law firms. It represents individuals and their families in serious personal injury and wrongful death cases arising out of airplane and railroad disasters, failed products, medical malpractice and a host of other catastrophic events. Corboy and Demetrio is renowned for its achievements in the courtroom and for its contributions to the community. The rights and concerns of its clients are at the core of Corboy & Demetrio's practice. That commitment, dedication, compassion and relentless drive has resulted in exceptional service and exceptional results. The firm has acquired more than $3 billion in settlements and verdicts, of which almost 600 were in excess of $1 million.
###