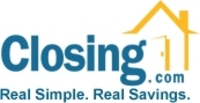 La Jolla, CA (PRWEB) July 21, 2010
Closing.com's national television commercial, which aired on cable networks last summer to announce the launch of Closing.com, has received a Telly Award. The Telly Awards recognize outstanding commercials and programming worldwide and are judged by advertising and production industry professionals.
The commerical, which aired on HGTV, Fox, CNN and CNN Headline News, illustrated the ease and efficiency of using Closing.com to save money on closing costs and shop for real estate closing services from the thousands of vendors listed on the Web site.
Closing.com is the Internet's largest, most comprehensive one-stop-shopping site for real estate closing services, such as title insurance, home inspections and other settlement providers. It is the first and only industry-supported Web site to serve the broad real estate closing industry, estimated to be more than $40 billion in size. Closing.com employs proprietary software and databases capable of generating instant prices for services based on each user's specific transaction information.
Founded in 1978, the Telly Awards honor outstanding local, regional, and cable TV commercials and programs, as well as the finest video and film productions, and Web commercials, videos and films. The Telly Awards annually showcase the best work of respected advertising agencies, production companies, television stations, cable operators, and corporate video departments worldwide. The Telly Award receives more than 11,000 entries annually from all 50 states and many foreign countries. The 30-second spot was produced and created by Brian Jouan, of Static Joe Creative, with art direction and concept by Closing.com's Creative Director, Joel Passion and Marketing Director, Patrice Tremor. The spot was written by Closing.com VP, Kristin Ewald.
Recent Telly Award winners include Adidas, AEG Network Live, AOL Media, Booz Allen Hamilton, CBS Television Distribution, Comcast Spotlight, Cox Sports Television, Discovery Channel, Elvis Presley Enterprises, ESPN, Golf Channel, Harpo Studios, Hasbro, Hewlett-Packard, Lockheed Martin, Microsoft, NBC Universal, Outdoor Channel, PGA Tour Productions, State Farm Insurance, The Weather Channel, TV Guide Network, and Women in Film.
About ClosingCorp
ClosingCorp, an independent real estate information services company based in La Jolla, CA, owns and operates the SmartGFE® Service, finalist for the 2010 Inman Award for Most Innovative Web Service, the SmartClosing(SM)Calculator, winner of the 2009 Inman Award for Most Innovative Technology, and Closing.com™ a site that helps consumers find and compare real estate services, make inquiries and learn more about the real estate closing process.
###