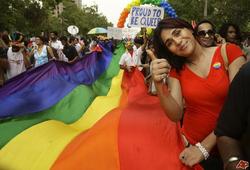 "Our last poll garnered 5000 results, and we nearly doubled that with this poll. It's obvious that SMS GupShup users want to be heard."
Santa Clara, Calif. and Mumbai, India (PRWEB) July 21, 2010
India's largest mobile social network, SMS GupShup, recently launched the Voice of India poll to discover and share opinions of a large number of Indians on a variety of topics. With over 30 million users, SMS GupShup has the ability to tap into a wide variety of communities, from all sectors of Indian life. This month, the company asked users, "Do you think same sex-marriage should be legalized in India?" Of the nearly 8000 respondents, 31% said they support legalizing gay marriage in India, with 69% opposed. According to polls taken in the US in 2009*, an average of 44% of Americans support same-sex marriage, which makes the margin between Indian and American support somewhat minimal, at only a 13% difference.
Until one year ago, homosexuality was illegal in India; on July 2, 2009, the Delhi High Court decriminalized homosexual intercourse between consenting adults, citing that it violated "the fundamental right to life and liberty and the right to equality as guaranteed by the Constitution of India." Since then, the country has seen an increase in health and social services for the LGBT sector, decrease in harassment, opening of gay establishments, and pride parades popping up in major cities, even the widely conservative city of Chennai.
Most of the respondents to this Voice of India poll hail from urban areas, with 35% from Bangalore, 29% from Mumbai, 16% from Kolkata, 15% from Delhi, 3% from Chennai.
India has historically not fostered open discussions about sexuality in general, making homosexuality a taboo topic. However, as gay and lesbian relationships have been seen more in arts and entertainment, the subject has become more acceptable. SMS GupShup senior director and head of marketing, Vishal Nongbet, discussed the impact that Bollywood and American pop culture has had on India: "We are seeing a growing number of films, TV shows, and music coming from India, the U.S., and around the world, that show same-sex couples. As more Indians are exposed to information and entertainment which show these relationships, one can see how acceptance grows."
As SMS GupShup gears up for their next Voice of India poll, the company aims to connect with even more GupShuppers. "Our last poll garnered 5000 results, and we nearly doubled that with this poll. It's obvious that our users want to be heard," says Nongbet. "And, given the coverage we have seen in India and the U.S., the media is equally interested in our poll results." This Voice of India poll was distributed in late June.
To learn more about SMS GupShup, visit: http://www.smsgupshup.com/
*ABCNews/Washington Post poll found 49% support same-sex marriage; USA Today/Gallup poll found 40% support same sex marriage. CBS/NYTimes poll found that 42% support marriage for same sex couples. The CBS/NYTimes poll also found that 25% of Americans support full civil unions – this percentage was not used to calculate the average, as the VOI question asked only about same sex marriage.
# # #