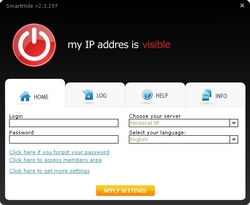 Hide your identity and Encrypt Internet connection with fast SmartHide Personal USA IP. Now available on MacOS.
Salem, OR (PRWEB) July 23, 2010
The company Arovax is happy to announce the great release for another SmartHide v.2.3.297 that brings some more present-day innovations and changes.
We have redesigned website to make it more user-friendly and modern. We have used bright colors and fresh styles but SmartHide logo - Octopus stays the same. Octopus symbolizes the main concept of SmartHide - the ability to hide IP like octopus masks his skin.
We have launched a long-awaited Personal USA IP
A lot of SmartHide users asked us to implement a Personal USA IP to visit USA websites (MySpace, Twitter, Facebook, YouTube, Bebo, Hi5, eBay, CraigsList, Hulu, etc.) from different countries.
Updated Subscription Plans
At the moment there are two types of paid services: Personal Subscription and Prepaid License.
Personal Subscription includes three more types: EUR (Personal EUR IP, no shared servers available); USA (Personal USA IP, no shared servers available); V.I.P. (Personal EUR IP, Personal USA IP + eight shared IPs from different countries).
Prepaid License consists of two classes: EUR License (Personal EUR IP, no shared servers available) and USA License (Personal USA IP, no shared servers available).
Differences between Personal Subscription and Prepaid License
Prepaid License does not include shared servers, your card is not billed automatically and there is no Personal Manager.
SmartHide Software Skin has been rebuilt
Now SmartHide has a new face. New appearance of the software is closely connected with the new original website design. The GUI of SmartHide has been styled this way to provide users with all SmartHide features in a simple way.
A new info tab has been added to show the account info and latest SmartHide news. Therefore, there is no need to visit SmartHide Homepage to get additional info.
From now on SmartHide Supports Apple Mac OS X
After numerous requests from our customers and Internet users, we have created SmartHide MacOS edition. Today all Mac PC owners can easily use SmartHide for Internet traffic encryption and to hide IP on a daily basis.
Free SmartHide Online Anonymizer now has four free servers (USA, Lithuanian, Russian and German).
With the help of free Online Anonymizer a user can get the main idea of the SmartHide service but it has some limitations:
1. No ability to gain access to social sites such as YouTube, MySpace, Facebook, etc.
2. No Internet traffic encryption
3. Slow Internet speed
4. Real IP address is hidden only when you are using browser. In all other software connected to the Internet a real IP address is visible (email clients, IMs, etc.)
In addition, we have fixed several issues and improved feedback built in software to make it easy-to-use and fast. All these changes make SmartHide more reliable and useful for our customers.
What our customers say about SmartHide innovations
"I am very glad that SmartHide team improves software on a regular basis. There is no similar Internet traffic encryption solution providing such services as SmartHide does."
About the company:
Arovax, LLC is an innovative software development company focused on innovative, high-quality and user friendly Online Security & Privacy Solutions. Starting from its first contracts in 2001, Arovax, LLC has proven to be a creative result-driven software vendor and is trusted by an outstanding amount of Internet users.
Company Homepage
http://www.smarthide.com
###