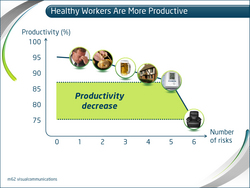 Visual Cognitive Dissonance can make a huge difference to audience engagement.
(PRWEB) July 22, 2010
m62 visualcommunications, the global leader in presentation effectiveness, is today urging presenters to use Visual Cognitive Dissonance in their slides.
Visual Cognitive Dissonance is the technique of presenting with slides that don't make sense without an explanation. When Visual Cognitive Dissonance is used in PowerPoint design, audience engagement is maximised and audience recall can be more than doubled.
The technique works because the brain automatically seeks a solution when presented with a problem. Instinctively, people feel an urge to solve the puzzle, and this makes the audience listen to the presenter in order to hear the answer.
If slides make sense without the presenter, the audience believe they already understand what the presenter is trying to explain, and thus do not feel the need to listen to the remainder of the presentation. This could lead to the audience disengaging with the content. Not only does this result in the audience being bored, but they could miss important points of the presentation, and thus not be successfully persuaded.
Nicholas Oulton, Founder of m62, commented: "Visual Cognitive Dissonance can make a huge difference to audience engagement. Presenters who attract audience members' attention in this way will ensure that their audiences leave the presentation satisfied and persuaded – and more likely to remember the important content.
"Presenters should learn how to use intrigue in their presentations to keep audiences interested, and designers should learn how to create slides that incorporate this on the screen. Using animation and diagrams effectively to engage audiences is one of the things we teach in our advanced PowerPoint training courses."
m62 visualcommunications has produced almost 10,000 presentations for clients worldwide, and has operated in a range of industries from medical to retail. m62 offers a range of services from presentation training to free downloadable PowerPoint templates.
For more information about m62 visualcommunications, call +44 (0)151 259 6262 or visit m62.net.
###