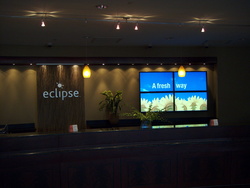 Over the last 12 months we have had customers across many verticals ask for a lower cost, entry level digital signage product that would grow with them as they started to deploy the technology and learn to use the system
Louisville, KY (PRWEB) July 22, 2010
Captive Indoor Media announced today the release of Codigo Standard, a low cost, content rich, digital signage software solution, designed for customers with a small number of locations and limited budgets. The solution includes many of the same features as Codigo™ Professional, and it allows for a seamless upgrade path for both hardware and software should customers wish to move to the full version.
"Over the last 12 months we have had customers across many verticals ask for a lower cost, entry level digital signage product that would grow with them as they started to deploy the technology and learn to use the system," said Brian Nutt, Founder and CEO of Captive Indoor Media. "Codigo Standard answers this request by providing intuitive software at a competitive price, a wealth of content, inexpensive hardware and is all backed by years of Digital Signage Software experience," added Nutt.
Codigo Standard comes with access to some of the best syndicated content available in the industry. Over 1,000 news feeds are included, and topics such as weather, financial indices and access to top news brands such as Associated Press for time sensitive video clips can be added as an option. "We feel like we have one of the largest content repositories in the industry and look forward to adding new relationships with the most respected news and entertainment houses as opportunities arise," said Brandon Bass, Captive Indoor Media's Creative Director.
Since inception, Captive Indoor Media has viewed content as an integral part of the digital signage solution. Over the years, the company has created relationships with key news agencies and built a proprietary library of editable content that is 2,000 pieces strong. The proprietary content is licensed to customers and created in such a way that each piece can be easily changed by the user to meet their specific needs. The Company says the best part about their content is that the user does not need a high degree of graphic design skill.
"Our content is built to be accessed and edited at the web level," said Brian Nutt. "We refer to it as ready to use content. The graphic design elements of motion, image and copy exist and the user is required only to preview the content and then make small changes as they see fit. This might be changing some text, adding a company logo or adjusting background imagery. Of course, if they wish to create content themselves, they have that option as well and can simply upload it to their Media Library," added Nutt.
About Captive Indoor Media: Captive Indoor Media is the leading provider of networked digital signage software solutions. Captive Indoor Media manages content creation, equipment procurement and software design and has installations across the United States. Its headquarters are in Louisville, KY. For additional information, visit http://www.captiveindoormedia.com or call (502) 779-8981.
# # #