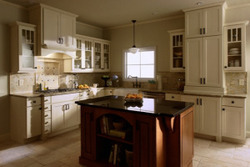 Thank you very much. It is a pleasure doing business with you and hope to buy more in the near future. I have recommended your company to several of my friends who are in the market for new cabinets
New York, NY (PRWEB) July 25, 2010
The RTA Store now provides new features that show off the true value of quality kitchen cabinets. A new scroller and customer testimonials provide the highlights of cabinets in a way never experienced before.
On their new website, the RTA Store showcases cheap kitchen cabinets through new categories like Best-selling RTA Kitchen Cabinets and Best Value RTA Kitchen Cabinets. These new categories help customers see the current trends in kitchen cabinets so they can discover what's popular and find ways to save money on discount kitchen cabinets.
Tyler, company president at the RTA Store, says, "This new website is truly designed with the customer in mind. Customers will really get a chance to feel what their new kitchen will look like with our 3-D scroller of kitchen cabinets, which also showcases our 3-D kitchen design feature."
The RTA Store also features a special area for customer testimonials, which allows new customers to see success stories from people who have used their services for cheap kitchen cabinets.
The RTA concept for kitchen cabinets has been revolutionized in recent years as companies like the RTA Store have discovered ways to create quality ready-to-assemble kitchen cabinets that far outlast traditional ready-to-assemble cabinets, which were once known for their cheap materials.
The RTA Store has been around for many years, helping customers realize their dreams of new kitchen cabinets for a fraction of the price.
###