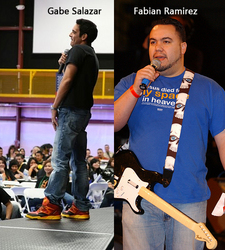 Drugs and alcohol are a one way ticket to either being dead or in jail.
Dallas, TX (PRWEB) July 27, 2010
Hispanic Youth Motivational Speakers Gabe Salazar and Fabian Ramirez hope to make an impact on thousands of teenagers in the upcoming school year. Currently they are wrapping up their summer schedule and booking speaking engagements for the new school year.
Professional Speaker Salazar served as the keynote speaker for the Boys and Girls Clubs of America European Keystone Conference in Munich, Germany in July. He was also a keynote speaker for the STARS National Conference in Ft. Collins, Colorado and the Hispanic Youth Symposium on the campus of Southern Methodist University in Dallas, Texas. Salazar is ready to begin a busy school year.
Fabian Ramirez, a school bullying speaker, is preparing for bullying prevention month in October. Having been a victim of bullying behavior as a middle school student, Ramirez shares his story about how he endured the pain that comes with bullying and the harsh consequences that students don't think about when they pick on and harass other students.
Ramirez also shares his inspirational story at youth conferences targeting Hispanic students with a speech called, From the Barrio to the University. He shares how he went from an at-risk student to receiving a Masters degree in Management.
A lot of time and effort is put into the drug prevention days called Red Ribbon Week. The Red Ribbon Campaign was started when drug traffickers in Mexico City murdered DEA agent Kiki Camarena in 1985.
In his drug free presentations, Salazar says, "Drugs and alcohol are a one way ticket to either being dead or in jail."
Currently Salazar is scheduled to be at schools in the Dallas/Fort Worth area the week of October 25-29.
In his bullying prevention speeches, Ramirez has the students chant, "Bullying, stops with me." Ramirez's most requested topic is school bullying which is good for business but wishes he could do more to cure the disease that can take over a campus.
About Gabe and Fabian: Gabe Salazar is a Professional Youth Speaker who travels the world giving teens a message of hope. His focus is helping teens make positive choices and giving them a reason to dream. Fabian Ramirez has been speaking to youth for over 10 years and is a member of the National Speakers Association.
###