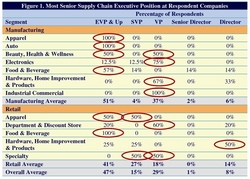 These companies are beginning to realize the significance of having a high-level supply chain executive influence their business strategies.
Raleigh, NC (Vocus) July 21, 2010
Companies are now more likely to have executive-level supply chain leaders, according to a recent Tompkins Supply Chain Consortium survey of leading retail and manufacturing companies.
The executive briefing – The Structure of Today's Supply Chain Organizations, based on the survey – notes that throughout the past five years, the organizational level of the senior-most supply chain executive has gradually moved higher. Today, nearly half the retail and manufacturing companies surveyed have a supply chain leader at or above the executive vice president level. (Figure 1 shows a breakdown by industry.)
"With supply chains becoming more dynamic and agile, organizations need to able to keep up with the pace," says Bruce Tompkins, Executive Director of the Consortium and author of the briefing. "And these companies are beginning to realize the significance of having a high-level supply chain executive influence their business strategies."
While supply chain leaders are moving up through the ranks and the title of Chief Supply Chain Officer is growing in use, there are still some areas within companies that lack collaboration between these executives and other areas of the organization. For example, the survey reveals that some companies do not have any part of their supply chain organization responsible for setting inventory targets.
Likewise, more than a quarter of retail companies and 14% of manufacturing companies surveyed have no formal process for aligning supply chain goals. Manufacturing companies tend to achieve goal alignment by reporting to a single executive, and retail companies generally have their common supply chain goals established by senior leadership.
"These gaps in goal alignment indicate significant opportunity for better communication and integration of supply chain functions," Tompkins adds. "However, companies are discovering these opportunities for improvement, and there is an increasing trend toward resource sharing across divisions and business units."
Other key findings include:

The functions reporting through the more senior supply chain executives are growing over time as more become consolidated under one organization and one leader. Transportation, distribution center operations, network design and planning functions are now commonly the responsibility of a senior executive (Figure 2.)
Outsourcing supply chain functions is growing, particularly for execution functions such as distribution and transportation. Planning, provider selection, and customer-facing functions tend to remain with internal resources.
To learn more about Tompkins Supply Chain Consortium, visit the website and choose the "new member" option. The Consortium also has a LinkedIn group and Xing group for qualified companies that are interested in staying current on the latest in supply chain benchmarking and best practices.
About Tompkins Supply Chain Consortium
Tompkins Supply Chain Consortium is the premier source for supply chain benchmarking and best practices knowledge. With more than 500 participating retail, manufacturing and wholesale/distribution companies, the Consortium sponsors a comprehensive repository of 17,000-plus benchmarks complemented by search capabilities, online analysis tools, topic forums and peer networking for supply chain executives and practitioners. The Consortium is led by the needs of its membership and an Advisory Board that includes executives from Campbell Soup Company, Hallmark Cards, Hewlett Packard, Ingram Micro, Kraft Foods, Limited Brands, Miller-Coors, The Coca-Cola Company and Target. To learn more about how your company can become a member of the Supply Chain Consortium, contact John Foley, 919-855-5461 or visit http://www.supplychainconsortium.com.
Media Contact:
Keri McManus
919-855-5516
kmcmanus(at)tompkinsinc(dot)com
###