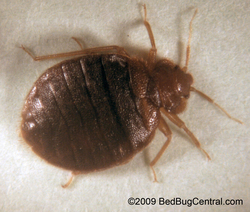 Bed bugs have become a significant problem in recent years and I noticed that panic was beginning to increase about the pest
New York, NY (Vocus) July 21, 2010
July marks the airing of BedBug TV's 50th episode, hosted by renowned research entomologist, Jeffrey White of BedBug Central. The recent surge of reported bed bug infestations this summer has contributed to more than 100,000 viewers visiting the website.
BedBug TV began as periodic side-project for Jeffrey White in 2008, but the website and video blog has slowly become an international resource for the public and pest management professionals seeking tips, information and advice on bed bugs.
White provides viewers with over five-hours of bed bug related information ranging from how to inspect your bed and couch at home to bed bugs appearing in schools. White also reviews products that work, insecticides, prevention tips, and treatment methods.
"Bed bugs have become a significant problem in recent years and I noticed that panic was beginning to increase about the pest," said White. "I wanted to create a light-hearted but extremely informative way for people to learn about bed bugs and that was start of Bed Bug TV."
Although BedBug TV has a modest viewership of 100,000, the show was recently featured on, "Good Day New York" as a fun resource for bed bug information. White attributes this success to his ability to make an otherwise revolting pest entertaining.
New BedBug TV episodes are posted twice a month and provide an area for viewers to inquire about bed bug related issues. The website even offers a direct e-mail to White in which he answers viewer's emailed questions directly.
"When I launched BedBug TV, I wanted to make myself as accessible to people as possible," said White. "Answering dozens of e-mails can definitely be time consuming but when you are able to give people useful advice, it's worth it."
In addition to serving as the host of BedBug TV, White is also a lead research entomologist for BedBug Central, a company and website created by concerned entomologists in response to the prevalence of inaccurate information about bed bugs.
About BedBug Central
BedBug Central serves as the nation's most authoritative information resource and website available to the public for information concerning bed bugs and bed bug related issues concerning health, prevention, and treatment methods. More information can be obtained at the BedBug Central website.
###