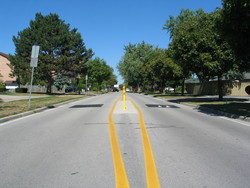 Oakville has so far installed 74 of the Traffic Logix rubber speed cushions since 2007.
Spring Valley, NY (PRWEB) July 26, 2010
Oakville, ON is no stranger to traffic calming. The town has created their own unique traffic calming combination using Traffic Logix speed cushions and urethane delineators. This solution ensures that cars slow down while emergency vehicles drive in the center of the road right over the delineator. While used on roads near school zones for several years, this cushion/delineator combination has just recently been used for the first time on two major collector/arterial roads, Eighth Line and Postmaster Drive.
The town began its induction into traffic calming in 2000 with a pilot speed hump program. They installed nine concrete speed humps in the beautiful lakeside town, which was quite effective in slowing speeding cars down. But it left emergency service departments concerned with the impact on their response time. At their insistence, many of the humps were removed.
In 2003, the town decided to develop an official traffic calming policy, which included a clause that local emergency services had to give their stamp of approval prior to any installation taking place. Several solutions were then tested to satisfy this requirement. These solutions included devices such as mountable medians and rumble strips, both of which had the resounding approval of the local emergency departments.
The only problem was they didn't slow cars down.
Chris Clapham, one of Oakville's Traffic Technologists, came across Traffic Logix rubber speed cushions, designed specifically to accommodate emergency response time. James Weatherall, a senior sales representative at Traffic Logix, brought some cushion units up to Oakville for them to test.
The Oakville fire department, ambulance services, traffic engineering staff, and neighboring fire department all attended the demonstration on a quiet local road. The idea of the speed cushions is several small speed humps installed across the width of a road. The cushions are narrow enough for emergency vehicles to straddle, while residential vehicles must actually drive over the cushions. While the emergency service departments were impressed with the cushion design, they wanted a solution that their wheels wouldn't have to drive over at all.
The Oakville project team was stumped. The split hump design of the rubber cushions however, seemed like a great idea for the foundation of a solution so the traffic engineering staff, the fire department and ambulance services brainstormed on how to integrate the cushions in a way that would make everyone happy.
They came up with a unique solution. Cushions were placed on both sides of the road for cars to drive over. In the center of the road they placed a traffic delineator that emergency vehicles could pass right over. The first delineators they tried were made of a softer urethane material, and while they worked for fire trucks and ambulances, cars could use them to bypass the cushions as well.
They then tried a delineator made of sturdier urethane, which can withstand impacts in excess of 60 mph. The emergency vehicles drove right past them without feeling a thing but motorists in cars really felt the lurch. It was a solution that worked; cars had to slow down and emergency vehicles didn't. The fire and emergency departments approved.
Oakville has so far installed 74 of the Traffic Logix cushions since 2007, all with urethane bollards in the center. Almost all of the speed cushions are installed in or near school zones, since streets with schools are given higher priority.
The cushion/bollard combination has just recently been installed on Eighth Line and Postmaster Drive, both busier major collector/arterial roads. The cushions on these roads were extended from the standard 7' length to 14' to slow cars less drastically.
Adam Bell, Oakville traffic technologist, has quite a lot to say in praise of the Traffic Logix rubber cushions.
"They're effective. They're easy to install. They're inexpensive. They're portable. They're durable."
He pauses and laughs.
"They're really durable."
The speed cushion/delineator combination is now the standard traffic calming solution used to slow traffic on Oakville streets.
###