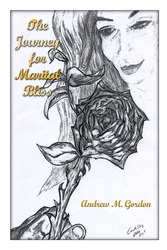 to show true love for life is to love each other.
Augusta, GA (Vocus) July 22, 2010
The Journey for Marital Bliss, a new book by Andrew M. Gordon, has been released by RoseDog Books.
This true story play is about a man, whose talents lead him to a world of faith, love and hope. Through his journey, he counts on love to carry him through, far beyond his wildest imagination. His own experience is shared so that others can see how love conquers all. Although there is pain and sorrow along the way, he took it each day as it came. One day at a time, he found the love to carry on until he found himself and became happy.
In return, this man sees that not only is marital bliss shared by millions of people, he in turn shares anything he can to better himself and the ones he loves to find marital bliss.
Andrew M. Gordon was born and raised in Bellevue, Nebraska in 1967. He was raised in Bellevue for his first ten years, and then moved to Augusta, Georgia where he grew up and finished high school. He went into managing restaurants as his career. He changed his career in 2007, after twenty years in the restaurant business, to laboring, outside work, as well as everything else about himself. He changed his friends, all of his relationships, and instead, focused on the story. All of his hobbies remained the same, but his goal was to finish the play and move on.
Andrew began this story in 2005, after meeting a woman and writing a song about her that he then gave to her. He then drew her eyes and came up with the idea of putting love, art, and music together as one. Through her kindness, he saw that loving someone else was possible after losing the love that he thought was his. He decided to live the experience through love, art, and music until he completed the project. The reality of trying to write about himself is that in this world we do nothing without someone else to guide the way. He says, "to show true love for life is to love each other."
The Journey for Marital Bliss is a 74-page paperback with a retail price of $13.00. The ISBN is 978-1-4349-9608-4. It was published by RoseDog Books of Pittsburgh, Pennsylvania. For more information or to request a review copy, please visit our virtual pressroom at http://www.rosedog.com/pressroom or our online bookstore at http://www.rosedogbookstore.com.
###