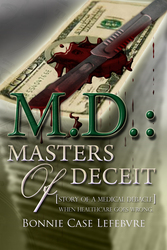 Plaquemine, LA (Vocus) July 22, 2010
M. D.: Masters of Deceit Story of a Medical Debacle, a new novel by Bonnie Case Lefebvre, has been released by RoseDog Books.
M.D.: Masters of Deceit: Story of a Medical Debacle is designed to expose the seamy underbelly of medical malpractice. This book centers on the plight of a young couple, Gianni and Hope, and is told from the perspective of Hope's mother. While Gianni is a successful restaurateur, Hope has an active floral business. Together with Hope's son, Cameron, the couple has built a loving, enjoyable life for themselves.
And yet all that will change when Gianni goes in for gastric bypass surgery and, in the wake of the procedure, an array of avoidable complications crop up. This is thanks, in large part, to the careless and diabolical Dr. Judas Botchmann, whose apt name only reiterates his incompetence.
As Gianni hangs in the balance between life and death, Hope and her family are left to wait, pray, and hope against hope that he will recover.
Bonnie Case Lefebvre's ancestors haled from the regal kingdom of central Spain to England and Ireland, and most importantly from the great Atchafalaya Swamp of South Central Louisiana. She is a middle-aged Southern lady who was born and reared in Plaquemine, Louisiana. She married her high school sweetheart, Emile J. Lefebvre III, and considers her two children to be her greatest fete in life. Her love of family and strength as a woman aided her in incorporating herself into the lives of her children and grandchild.
Mrs. Lefebvre attended Louisiana State University at Baton Rouge and Louisiana State University in New Orleans, Louisiana. She is a first-time writer who worked in the medical field for more than fourteen years, which gave her the medical background to read, understand, and document this medical debacle. Her goals as a writer are to lend strength to other women who face strife in their lives and to overcome the heartaches throughout life. She is presently writing an epic saga of woman's fiction.
M. D.: Masters of Deceit Story of a Medical Debacle is a 428-page paperback with a retail price of $33.00. The ISBN is 978-1-4349-9760-9. It was published by RoseDog Books of Pittsburgh, Pennsylvania. For more information or to request a review copy, please visit our virtual pressroom at http://www.rosedog.com/pressroom or our online bookstore at http://www.rosedogbookstore.com.
###