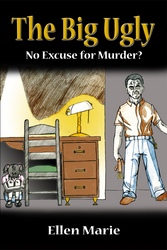 Franklin, IN (Vocus) July 22, 2010
The Big Ugly: No Excuse for Murder? , a new book by Ellen Marie, has been released by RoseDog Books.
Ellen thought she was being punished for something as an adult. While she tried so hard to be a good mother and wife, she felt her world coming apart at the seams. Her baby boy had to fight a horrific battle for his life. This long journey to recovery broke something inside of Ellen that she could not quite identify. She was no longer happy. She was panicky and jumpy all the time. Then word came in about her father. She had not seen him for four years. He was supposed to be dying. Ellen's panic attacks became debilitating and she feared that something horrible was wrong with her physically. She went to the doctor for help. No one could ever have told her of the nightmare she was about to descend. No one could have warned her that maybe it was not a good idea to seek the kind of help she truly needed. If they had, maybe she would not have done it. Nevertheless, she did. This story is about her journey back in time to events that held the keys she needed to free herself from her fears and sadness. She went back to The Big Ugly.
Ellen Marie is one of eight children. She is one of millions in a group called Incest Survivors. She attended parochial schools and public high school. She took one semester of nurses training and decided it was not for her. She married her high-school sweetheart and has three wonderful adult children, and one grandchild. She lives an active life with her husband and two yellow Labradors.
The Big Ugly: No Excuse for Murder? is a 176-page paperback with a retail price of $17.00. The ISBN is 978-1-4349-9900-9. It was published by RoseDog Books of Pittsburgh, Pennsylvania. For more information or to request a review copy, please visit our virtual pressroom at http://www.rosedog.com/pressroom or our online bookstore at http://www.rosedogbookstore.com.
###